what is your daily income in mylot?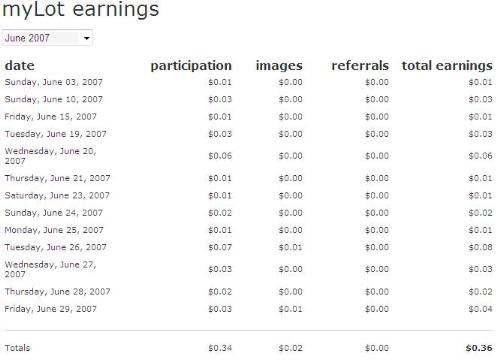 Israel
July 4, 2007 8:35am CST
what is your daily income here in mylot and how much time you spend on it how many posts you open everyday?well my income is very low i dont know why i open about 5 posts everyday and respond for more then 30 posts everyday but still i earn about 1-20 cents:( how i can see people that doing the minimum payout every month?
6 responses

• Bulgaria
4 Jul 07
Almost nothing. But I am not so active. It is around $0.10 but I am happy enough because I have new friends here and new occupation for my free time. I think that it is more important than just writing nonsense and expecting to get money from them.

• Israel
4 Jul 07
thats a nice view, its really hard to find a good active forum like mylot in these days and also if you can earn some money... all i need is just 10$ in my moneybooker account :/


• Israel
4 Jul 07
do you satisfied with your income or you still want to earn more ?

• Philippines
6 Jul 07
im trying really hard to double and lengthen my posts. my earnings reach about only 10 cents for the highest and 2 cents for the lowest. its so depressing! i'm already months here in mylot but i still cant reach the minimum payouts.

• India
5 Jul 07
Dear zipman191 My daily income on mylot .. tricky question -- my income is not fixed .. it all depends on my work .. if I work less I don't get paid much .. if I work more I get paid much .. so it all depends on the work . Well if you will open only 5 posts -- that will not mean that you should get paid nicely for it .. it should get some quality too .. also you should make atleast 4 - 6 lines when starting a discussion or replying to discussions .. As for me .. I really avoid one or two lines discussions because neither you will earn anything out of it and neither me . So it's better to write more and more here .. There are many things which are already mentioned in the post of other members so I won't be saying much .. but yes you should concentrate on the quality of your posts. Happy mylotting my dear friend and wish you all the best and hope you enjoy your stay here !!!!

• Finland
4 Jul 07
hi zipman191! i usually earn 10-20 cents a day here in mylot. sometimes i sleepy referrals (or at least one) wakes up and post and i make more. i make around 10-20 post a day, sometimes even less. i really depends on my mood..

• United States
8 Jul 07
Well, at least you're earn something. I do about 50 posts a day and that is just responding to everyone's discussion and I used to get around 30 cents but lately it went down to 14 cents for that many posts. I think the value of a cent is going way down and fast around here.