For Women -- Does it pay off when going to the Beauty Parlor?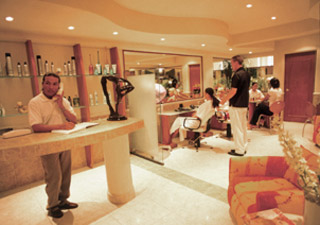 United States
4 responses

• Philippines
8 Jul 07
Here in the Philippines, trips to beauty parlors and spas are affordable. Yes, I always have my nails made, and my it takes the stress away. It's my way of unwinding during weekends. Once in a while I go to the spa for foot spa, facial treatment, or body massage. We get a discount loyalty card, so it's not really spending a fortune on pampering myself. In fact two nights ago, we went to the spa for foot scrub and facial cleansing and they felt soooo good. The ambiance is great, with soft mellow music and dim lights. It really felt so good, I want to do it over again. At least I pamper myself during paydays...Yup, they do a great job I usually give tips...by the way for manicure and pedicure, the charge is only around $2.00, while the foot scrub around $4...it's not really that expensive here, and they do a great job. That's why professionals frequest these places to take the stress away.....

• United States
8 Jul 07
Oh of course the Philippines is affordable! From Bicol to Manila just to get a haircut of my own or if my cousins are getting their pedicures or waxes cost $2 or less as you have mentioned. Beauty Parlors there are good for business as another thing to add. Thanks for all your comments.

• Philippines
8 Jul 07
Hello there bluemestizo ;)! I am pretty sure that those services you've mentioned are really expensive. For me, I personally do my own stuff of Foot spa, pedicure and manicure (I clean my nails once or twice in a week). It's for free and I do get the total satisfaction of it because I've done it by myself. hehehe..Only when I've decided to get a haircut that I'll be visiting the beauty parlor then. It's a rewarding feeling to get them done myself. Uhu-h, forgot to mention the 'wax' thing too is self-service.(Much more cheaper..) hehehee ;)

• Philippines
8 Jul 07
i get my nails and feet done in a parlor then sometimes i go for hair cut. this i do for myself, pampering myself. im a single mom and this things i do to reward myself

• United States
8 Jul 07
I have a friend who owns her own business at home, and does these things. She doesn't charge me very much, but I love to go there and get a facial, get my waxing done - only on my face, because I think anything else would hurt way too much, she does a wonderful hand treatment that makes your skin super soft. She usually only charges me $5 for this, but she does a better job than anyone in a salon. As for getting my hair cut, I tend not to do that very often. I think the price of $30 for a trim is ridiculous, but at the same time I refuse to go to one of the cheap places like CostCutters or SuperCuts.