Finding something way cheaper on e-bay!!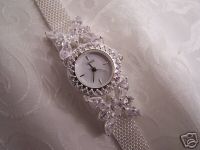 United States
July 8, 2007 11:40pm CST
I just had to post this. I received an ad for a sterling silver crystal butterfly watch in the mail. I love butterfly jewelry, it is a Lenox watch so the cost is $136.00 total. I checked e-bay just for the heck of it and found this exact watch for $35.00 NIB including shipping and handling!! The only thing missing is the Certificate of Authenticity. Which I could care less about, amazing what you can find on e-bay!! Shame I don't have the money to bid on it right now, LOL!
4 responses

• United States
9 Jul 07
I know what you mean. I wanted some SAS shoes and they are over $100 if I buy them here in town but on ebay, I can get them new or gently used for about half that or even less sometimes. So now I have a couple of pairs and wish I had a couple more in different colors! I have to save up for them though.

• United States
11 Jul 07
I don't found too many thing cheaper on e-bay, but then most of the stuff that I buy on e-bay are a few inexpensive antiques and unusual items that you can't find anywhere else. I love E-Bay! My wife is the family treasurer and she hates when I say "e-bay". lol

• United States
9 Jul 07
Last year I actually did half of my christmas shopping on Ebay. Just so much eaiser :)