favorite fruit to pick in a fruit salad.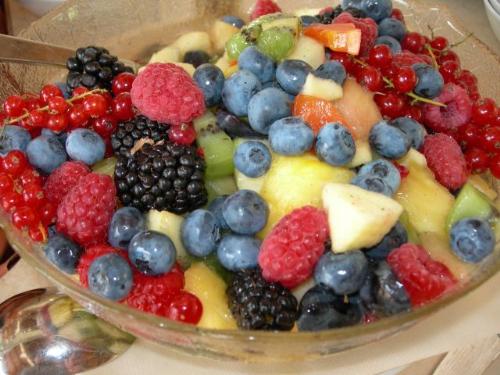 Philippines
8 responses



• Philippines
30 May 08
I love peaches too, my very favorite. I think I like to eat all of them as long as it has lots of milk and cream and cheese. I'm not much of a sweet eater but when it comes to a combination like this -- wow, perfect dessert for me. :p

• Philippines
4 May 08
raisins, pineapple and lotsa cheese! but my own version of fruit salad only composes of those three. lol! i prefer eating very, very frozen fruit salad though. errrr....i forgot what peaches taste like. hahahaha

• United States
31 May 08
I just love watermelon, strawberries, bananas, apples, pineapple, cream cheese and whip cream. Sounds so good right about now.


• Indonesia
5 May 08
waw..fruit salad is one of my favorite. ussualy put grape, pear, apple, strawberry, mango, and maybe cherry.. I'm loving it..

• Philippines
5 May 08
melon, mango and watermelon. i'm already hungry. lol.

• United States
28 May 08
Mine is mango,cherry,apple, and little milk will be great for me!