Do you know your basketball???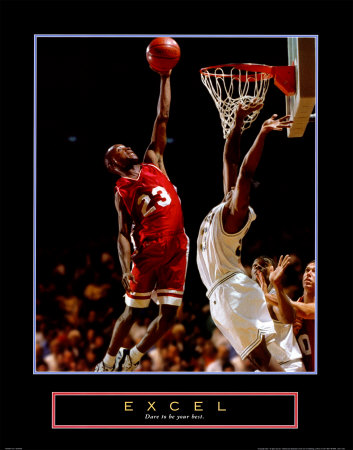 Malaysia
July 10, 2007 1:48pm CST
Aside from football and badminton, basketball is another popular sports among teenagers. Do you play the sport as well? If you do, just how much do you know about it besides shooting a three pointer or blocking a dunk? Take this test to find out. Question 1: In the NBA Finals 2007, which group bagged the Championship? a)Detroit Piston b)Miami Heat c)San Antonio Spurs Question 2: How is streetball different from a classic basketball game? a)There is no time limit to each game. b)Each group needs to achieve a certain score first in order to win the game. c)Streetball is not concerned with the moves such as travelling and double dribble.
4 responses

• United States
10 Jul 07
The San Antonio Spurs won the NBA Championship over the Cleveland Cavaliers. And when it comes to streetball there is no time limit, games typically go till one team scores 11 16 21 32 points. That all depends on what the two teams agree upon. In most places you still have to win by more than two points. In streetball people still call travelling and double dribble but they have different names. Although carrying the ball happens very often it is not called as a violation. A great example of streetball is the And 1 tour.

• Malaysia
10 Jul 07
Yeah!! You're right for the first question. Unfortunately fot the second question, the true answer is (c)-streetball is not concerned with moves such as travelling and double dribble. Good job man.

• Malaysia
11 Jul 07
Ok. For the next questions. Thanks a lot who have tried to answer these q. 3. Who won the NBA all-Star shoot-out challenge Tthis year? a)Jason Kapono b)Ray Allen c)Magic Johnson 4. Besides Michael Jordan, who else won the NBA All-Star dunk contest? a)LeBron James b)Gerald Green c)Dominic Wilkins

• United States
11 Jul 07
Jason Kapono beat out Gilbert Arenas in this years NBA Shootout. Dominic Wilkins did win the NBA Slamdunk contest when he played. I don't know exactly what year he won it in. Gerald Green won the slamdunk contest this year, and he also won the high school slam dunk contest a few years back.

• India
21 Jul 07
no idont about this game and i have no interest towards this game for ever so i cant give the information you want .i am sorry for this

• United States
20 Jul 07
Well, I now enough to get by but I wouldn't say that I am a professional or anything like that. Besides, I like to play for fun and never for a competition or anything like that.