Toilet Tales--can we ever get enough of them?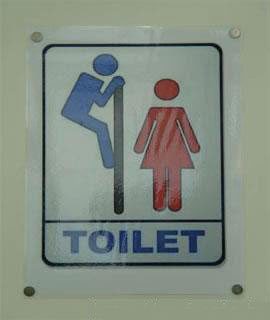 United States
July 10, 2007 11:22pm CST
Toilet Tales--can we ever get enough of them? Well, of course not! The best toilet I ever became intimate with was in the Waldorf Astoria....gold fixtures, very clean. I felt so whole when I left..almost as if I was not in the USA. The worst? I could say a bar in Paris, if only because they had one toilet and it simply had a hole the size of a silver dollar. I could not figure out how to use it. Or I could say, Wal-mart. I walked into one that had feces all over the seat, walls and floor...well, at least the one in Paris I could use if I could figure it out...the other one I couldn't.
2 responses

• United States
11 Jul 07
The most fun toilet I've ever visited was at a bar out in the country somewhere. My dad took me, by younger brother, and my mom to see this place. There were all kinds of animated stuffed animals lining shelves and walls decorating the bar. You could play a certain song on the jukebox and all of the animals would start dancing or playing toy instruments. In the ladies room, there was a life size statue of an American Indian man wearing nothing but that little front piece covering his privates. My mom went in to the bathroom with me, and said, why don't you take a peek, pointing to the Indian. I didn't want to do it, so my mom did it,lifting up the front piece to see what was underneath. When we came out of the bathroom, all of the animations were playing their songs, and everyone was laughing. My dad and the bartender were asking us how we liked the bathroom. I wasn't surprised they set us up like that, as my dad loved to pull pranks on us. It was pretty funny. We sat there for awhile, and every time a new female customer would come in and go to the restroom, it would start all over again.

• United States
11 Jul 07
Wow! Isn't that neat?! I never heard of such a place. What is the name and where is it located? It still exists, right? That is so funny! This is giving me an idea for a new discussion.

• United States
11 Jul 07
That happened more than 40 years ago. My brother and I were pretty young. It was not far from Grass Lake, Illinois, which is about an hour's drive from Chicago. There used to be all sorts of interesting bars around that area. I went back there a couple of years ago and tried to find some of the ones we used to visit around the lake, and I couldn't find anything familiar. I never knew the name of that bar, but it probably closed years ago.

• United States
12 Jul 07
That is one place that should have stayed open.

• Australia
11 Jul 07
haha recently while showing a visiting friend around Sydney, Australia recently she said she had to go so i pointed her in the right direction.... the old "dunny" had now been replaced by a new TALKING one , complete with a welcome and you have 10 minutes "comfort" time haha playing soft music while you're occupied and a very happy "thanks, see ya soon" as you leave

• United States
11 Jul 07
Ten Minutes comfort time, huh? And what happens if you are not finished within ten minutes? A giant foot boots you off the toilet? How comforting....being told I have ten minutes would feel like pressure...and I could not relax.

• United States
11 Jul 07
Potty training at its' best...