Self cleaning kitty box?!?!?

United States
July 12, 2007 1:16am CST
Have you seen the commercial? It scoops the poop, washed the litter, and flushed everything out into the toilet so you never have to touch anything. I WANT ONE!!! Does any one out there have one? It's called the CatGenie. www.catgenie.com I have MANY cat's though, so I wonder if it would be a good idea (IF I could afford it...)
7 responses

• United States
13 Jul 07
this catGenie looka promising but I can't afford $300. But if Wlamart have it cheaper I jut might have to invest in it. Thank you for the info

• United States
26 Jul 07
Hee hee hee ... I'll let you know how it goes... http://www.mylot.com/w/discussions/1217644.aspx

• United States
12 Jul 07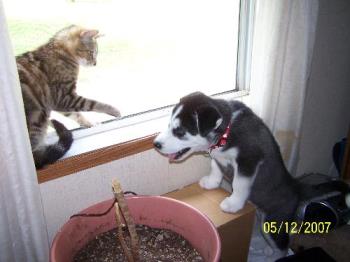 Well it looks Pretty cool but I would want to see it work for myself before I bought one for $300 bucks its the first time I ever seen that to. I Think if I had the Money right now I would buy one for my cats I used to have 9 of them but only have two right now a dog,parrot and a rabbit.lol My Little Zoo

• United States
13 Jul 07
I have 11 cats right now. I did have 13, but a friend took her two back that I had been foster sitting for about 3-4 months. I have kittens that will leave soon, their mother (Who was a feral cat) will possible go back outside. But momma's friend (another feral kitty I brought in to keep the family company) is pregnant. So I'll have another litter before I can get both girls fixed. Anyway... None of this has anything to do with the point of this discussion...

• United States
15 Jul 07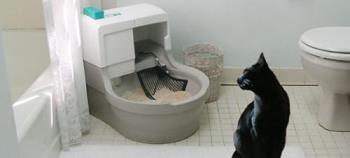 I have never heard of this before. It is quite interesting and something I would love to have but for $399 I think I will continue to clean my own. I would like to get one of the original self-cleaning that sweep the litter and all you have to do is trash the bag. I have three cats so it is a constant struggle to keep it clean. Thanks for the information, and have a great day.

• United States
14 Jul 07
Yes, I've heard of it, I would have to invest in the cheaper one from Walmart though. Right now I can't afford to spend any extra money, but the messes my 2 cats make it would be a wonderful thing to have!

• United States
13 Jul 07
My sister has the litermaid. It works great & the house doesn't smell anymore. It only cost her about $100 at Walmart. I would love to have one myself but there is no recepticals near the litter box & I think it would go thru a lot of batteries.

• United States
26 Jul 07
Wow, that seems almost too good to be true! However, I can't afford the price. Someone was a genius to design that. My luck too, my cat would be afraid of it!

• United States
27 Jul 07
It says that your kitty will learn to assocaite the noise with having a clean kitty box. They say to shut the door for the first few days during the cleaning cycle, after that, kitty won't care.

• United States
29 Jul 07
I bought a covered litter box from Petco 3 days ago (it's called the Omega-Paw Self Cleaning Litter box (http://www.petco.com/product/2611/Omega-Paw-Self-Cleaning-Litter-Boxes.aspx) It was about $30, and it's AWESOME! While it's not really self cleaning, it's soooo much easier than scooping! All you do is roll the litter box to it's top, and then roll it back and there's a little screen and a compartment that catches all the clumps. You just pull out the drawer and throw it out! I use the cheap litter from petco, and it works wonderfully! For the price, it's really really great for multiple cat houses. You should still keep a scooper on hand for the really big messes that stick to the sides. I found, though, that putting the max amount of litter in it prevents this. It's a GREAT solution to those who are sick of scooping, and can't afford a fancy shmancy machine to do it. I love mine, and clean the litter box two to three times a day now because it's just sooo easy!!! Sorry i couldn't answer about the CatGenie, but if you're looking for other options, give this one a try! :)


• United States
2 Aug 07
As long as you make sure all three clips are in position when you put the thing together, it has worked GREAT thus far. I've only used it a week, and the only real mess the box has caused is my puppy getting into it before I get to clean it! (I'm buying a piece of furniture so that I can elevate it today) It's really really fast and easy, and I figure I will probably have to take it apart and clean it all out only one a month or so (Thus far, no messes stuck to the sides, and no using the scoop to get stuff off the sides!) I love it!

• United States
9 Aug 07
I wouldn't be lucky at having no mess on the sides. With all the kitties I have, there is usally someone with runny butt syndrome, so it would be messy!!