Hot 'Oldies'

United States
July 13, 2007 12:15am CST
At dinner a few weeks abou I was telling my parents how me and my sister agree that if we could marry one celebrity it would be Liev Schreiber. We both think he just has this...thing about him that is sexy! lol. Well, my parents totally disagreed and were surprised that I would say that lol. So my dad asked me "Even though Kevin Costner is old now, do I still find him hot." I said, "oh yeah!" lol. And I started listing off other older actors I thought were still hot(for their age)...here's my list: Paul Newman, Sean Connery, Robert Redford. Is there anyother aged actors you girls find attractive (or guys can answer about actresses). I will let you know if I agree with anyone you say! :) Tell me what you think of my choices.
6 responses


• United States
13 Jul 07
I'm sorry Boofy....which hot old actor are you :P maybe you will be on my list! lol

• Australia
14 Jul 07
Yes she is in a few movies, one in particular is a "mini series" called The River... she now has a tv series called Whats good for you


•
13 Jul 07
Here is my men in no order at all... Harrison Ford -63 Mel Gibson- 50 (sober) Ian McKellan - 68 (I know...gay) Richard Gere- 58 Antonio Banderas -47 (not that old I know) That's all I can think of right now. I wouldn't kick any of these guys out of bed for eating crakers, or anything else for that matter *blush*

• United States
13 Jul 07
LOL! Well I totally agree with you about Mel Gibson, don't know why I didn't think of him! Richard Gere is also a hunk. I never really was a fan of Antonia Banderas, but who is Ian McKellan..name doesn't ring a bell.

•
13 Jul 07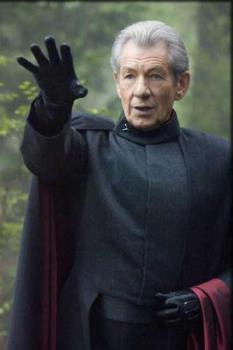 His recent roles have been X-men and Lord of the Rings. Something about him is so darn appealing to me. However he is gay. Still he counts for being attractive.

• United States
14 Jul 07
oh! okay now that I see him the name does ring a bell! lol. I never thought of him as being attractive like the others on my list, but I guess I can see it! :) I didn't know he was gay!

• United States
13 Jul 07
i totally agree with you about Liev Schreiber!! that man is super sexy! but he isnt an "oldie" isnt he only in his early 30's?? as for others..the usual lol, Sean Connery, Kevin Costner, Pierce Bronson, Harrison Ford. another older gentleman that i have always found super sexy is that guy who played J. Peterman on Seinfeld..i can never remember his name though!! gorgeous silver fox that one! lol

• United States
13 Jul 07
I wasn't including Liev Screiber as an oldie :) We were talking about him BEFORE the oldie conversation started :) My dad was just curious of I thought Kevin Costner was still hot because we had just seen his movie, Mr. Brooks :) And then he just asked me about other old actors and I told him the ones I still thought were hot :)

• United States
13 Jul 07
Liev Schreiber does have some kind of charisma that makes me attractive, I agree. My sister has always had this thing for Sean Connery, even though she is 28, and he is, well, he's a lot older than 28! I guess my list would be Richard Gere, Kevin Costner, Mel Gibson (I know, I know), and yes, Tony Danza. Don't ask me why, I don't know! LOL Also, and I know I'm going to get flak for this, but I don't see the attraction people have to Harrison Ford. He has always seemed overrated in the looks category to me. Again, JUST My opinion!


• United States
14 Jul 07
oh! okay. I think I know who you're talking about now! Thanks for clearing it up for me...hmm...I guess he's attractive

• United States
14 Jul 07
lol, I can understand your query about Tony Danza being cute or not. Looking on the outside, he's OK, but the more I've seen of him do personally, like serious interviews, I realize what a genuine heart lurks underneath his entertainment persona. He just seems real, and I find that hot, LOL.


• United States
15 Jul 07
Its funny you should mention Sean Connery...he wasn't exactly bad looking when he was younger but he's definitely gotten so much better looking with age, with that beard and white hair...like the way he looked in First Knight, or Hunt for Red October...oh, and speaking of First Knight...Richard Gere is not bad one to look at either! LOL

• United States
15 Jul 07
Yes I def. agree with Richard Gere, He was really hot in Mothman Prophecies! :) And I liked Sean Connery in The Rock...he was the suave convict! lol.