Do you always celebrate your birthday with a blast or party?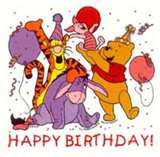 Philippines
8 responses

• Philippines
14 Jul 07
I do not celebrate my birthday with a blast or party. I just celebrate in a simple way. Sometimes, We will just buy or cook something that we can share together. For me, what's important is that we thank the Lord whenever a birthday or anniversary comes. partied has got nothing to do about being thankful.

• Malaysia
14 Jul 07
Last year I went for a birthday getaway with two of my best girls.We had a blast!The year before I had a birthday party at a golf club and invited 30 of my closest friends.but this year,I didn't feel like having a party.I had lunch with my partner.We had sushi.He knows how much I like sushi.Birthdays are just overrated now that I'm older.lol.My family doesn't even remember to bring me out anymore but I know they love me.Having a blast doesn't mean you have to have a party with a big crowd;)

• India
14 Jul 07
Hi lynboobsy!!Well i wan inviting my friends and relatives on my birthday when i was small.Now am not.I will take blessings of my parents and try to spend with my family in house.We go for a holy place to worship god in the mornings and evenings we will go to a resturant of somewhere else to enjoy and celebrate that day.Smiles

• Pakistan
13 Jul 07
i don't celebrate my birth with a blast or party because i personally don't like doing it i just sometimes call my near frineds on my birthday.


• Singapore
13 Jul 07
I have never celebrated my birthday with a blast or party. It is celebrated with either my close friends or by myself if my friends celebrated it for me before my birthday. At times, it is inconvenient to celebate my birthday on the actual day as we are working different schedules. Whichever, my mother never forgets to cook me a bowl of longevity noodles with 2 red eggs.

• Delhi, India
16 Jul 07
Lyn, It is not possible everytime to invite friends etc. for B'day celebrations. Sometimes I celebrate it with my immediate family only. My b'day is on 13th September. When is your B'Day, please let me know...so I could extend my wishes? Deepak

• Northern Mariana Islands
14 Jul 07
I used to celebrate my birthday with a bash, but that was before I became a mother. Now I just enjoy my birthday with my kids. To be honest it already feel like just another day…lol.. most of the time we don't do anything but bbq but then again that's what we do at least 3 days a week..lol