just to warn people who eats at kfc in shell slex (philippines)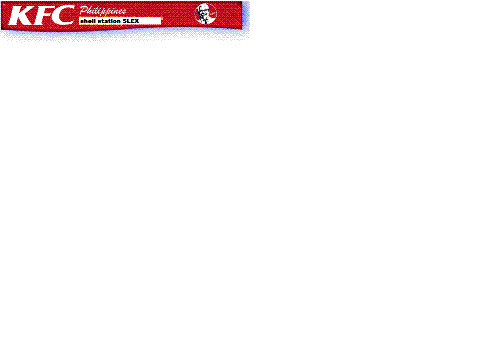 Philippines
July 13, 2007 8:25pm CST
i am stating this as concern to those who would be at the area of South Superhiway (philippines). Guys usually if we go on a long trip to the south, isn't it we stop for a snack or gas at the station? My kids and i were on our way to Enchanted Kingdom when we stopped at Shell station where we need to eat and gas up. We were quietly eating inside KFC when a man suddenly grabbed my bag from me. We chased him inside the store,but got away at the other entrance. They have a get away van UAD 581. its a blue vanette. I complained to the store manager, but he was not helpful. I even asked why is their security guard not at the door..(he was removing trays from the table)otherwise the perpetrator won't escape. the manager thinks its not their responsibility if i lost my bag, BUT I DIDNT JUST LOSE IT,A MAN GRABBED IT FROM ME WHILE WE ARE INSIDE YOUR STORE I said. don't we have any protection from restaurants? if we slipped at their floor can we not sue the store for lack of safety measures? are security guards supposed to guard the store or the customers too? what do you think?
2 responses


• Philippines
14 Jul 07
I agree, if I did left my bag elsewhere. the thing is, its in my lap with my arm on it. Was too strong that it got pulled off really. I think if the security guard didn't leave its post then the snatcher would definitely think twice. Some criminals really study the store's movement to be able to do some crime


• Philippines
14 Jul 07
slipping on the floor and getting your bag snatched inside the store, i think, are not the same as far as determining whether or not the store may be held accountable. if i were the store, i would argue that the security guard were intended to provide aide in case a robbery or violence is being committed and on going inside the store. the guard is for the security of the store and not really for the customers. is it the responsibility of the store to also provide protection to its customers? i believe they really should. but the level of diligence, or how strongly they are required by law to do this is not that high. the store can easily argue that they have no control over the people coming in and out of their store, as they do not discriminate against anyone. and they could not have at any way predicted that your bag would be snatched. your innocence of the incident is just the same as that of the store.

• Philippines
14 Jul 07
thanks, the funny thing about that store is that they allow security guards to help in cleaning up tables by removing trays. when they should be observing for suspicious people around and stay at the door. i mean guard the door. A good samaritan offered ride to my niece to get my duplicate key (car) at home, since everything was taken from me.