Why do men like to grow really thick beards?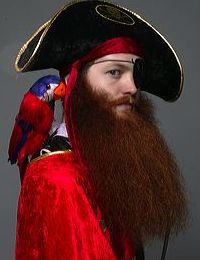 Philippines
5 responses

• United States
14 Jul 07
because it shows a man that has a role responsibility! imma grow one like father time...hellz yeah

•
14 Jul 07
I am always slightly suspicious of a man with a beard. I think its because in Psychology we are told that people who try to hide their mouths are always lying, therefore what better way of hiding your mouth can there be than growing a beard? Therefore, subconsciously, men who wear a beard are liers. Its just how I feel blessed be

• Philippines
15 Jul 07
LOL! This is a really funny way of viewing it. But there's a great possibility. Thanks for sharing your thoughts on this.

• Portugal
12 Aug 07
Oh really? LOL well, you are a guy so maybe it is true. ooppss, it doesn't mean that you are the one but because you know more men than us so maybe your instinc is right. :)

• India
14 Jul 07
hmmn..naah..i does luk gud.!!datz it..me a big fan of beards..though i dun have a long 'un..i guess it gives ya a muchmore mature n powerful look.!!

• Philippines
15 Jul 07
It does look scary. It probably emanates power and authority. Thanks for responding.

• Portugal
12 Aug 07
Some of my friends that having thick beards said that it can make them look gown up guy. Some say that it will make them more attractive. And some say it is just their style for a change. :)

• United States
12 Aug 07
I couldn't answer that one for you, as you can see I am not one of those men. I have always found facial hair to be irratating, it always makes me want to itch even seeing them on other people.