Kenny Chesney concert 7/12/07 Indianapolis Indiana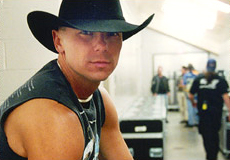 United States
July 14, 2007 10:43am CST
I went to Kenny Chesney 7/12/07 and it rocked!! Sugarland was with him and she actually did Beyonce's song Irreplaceable. She sounded cute singing it. He is so cute! My mom and I were getting a drink in one of the bars at Verizon and a couple came in there that had just met him! They showed us their picture, he looked like a midget next to them! I have no idea how they managed to meet him at a sold out concert! He is a great entertainer, I took pictures but from where our seats were at, I don't think they turned out very good. My ex husband was there in the good seats, but I never saw him. If I did, I would've buttered him up so we could get up close and personal with Kenny!! I used my binoculars to see him better and he has such a cute little baby face! Just thought I would share my experience with everyone and I am attaching a picture, not from the concert though...I bought a t-shirt and a lei that lights up and has light up flip-flops on the end.
2 responses

• United States
14 Jul 07
I did not go to the concert. But Indianapolis is pretty close to me. I normally go to alot of his concerts nd especially the ones that are close to where I live. But this year I am cutting down on concerts to save some money to pay bills. Kenny is such a good entertainer. I have actually met him 3 times. He is very short. I am 5'10 and he is like 5'4 or 5'6 or something. One of my pictures I am actually bending over and the guys were laughing at me. I met him twice through his fan club parties and the other time I met him I won through the GM CARD that sponored his tour that year. I would have given anything to see Sugarland. They are becomming one of my favorites groups. I have never seen them live but would love to. Jennifer Netles can sing can't she? Glad you had a good time.

• United States
14 Jul 07
I joined his fan club to try and get good seats and it didn't work, lawn popped up so I didn't take it. Could I have still gotten backstage or sand bar passes? I'll be mad if I could have!! I would love to meet him. Yes she can sing, she had flat sandals on that were red with gold glitter. I used my binoculars to see her too, lol. If you don't live too far from Indy, maybe we could get together on his next tour? Thanks for responding!

• United States
17 Jul 07
If you buy tickets through his fan club you can get upgraded. They draw for fan club members who have bought tickets through the fan club. Also you can win sand bar passes. I live in Marengo, Indiana which is about 2 1/2 hours from Indy. I go up there sometimes to see concerts. I seen Kenny up there a few times. I met Kenny through his fan club party he has in June during fan fair in Nashville. Other than winning once backstage. I am surprised you didn't get better tickets through his fan club. I have purchased tickets through his fan club and I normally get pretty close. However, he is getting so BIG anymore.

• United States
17 Jul 07
Lucky you! My daughter and I wanted to go to this concert,but when we tried to get tickets,they were sold out. They are very expensive but he is great!! I don't live far from Indy and so it would have been a short trip for us. I would like to meet him and have my picture taken with him. I am 5'4" so we would be okay. I didnt know that he was quite that short. I would have made sure my ex husband was buttered up for better seats too. He would have known that you were drooling over Kenny and not him though!