Hey Fellow Knitters.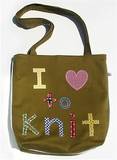 United States
July 14, 2007 10:29pm CST
I was looking for pictures of knitting at photobucket.com. I found the perfect avatar for me. They have so many cute pics for knitters I just couldn't get over it. So I thought I would share with you. Do you know any other sites that have free pics like PhotoBucket.com does? And let me know how you like my new avatar.:D
3 responses

• United States
15 Jul 07
I think your avatar is awesome..very cute..I don't know any other sites because I do not knit..sorry..I crochet..I just wanted to comment on your avatar..

• United States
24 Jul 07
You are welcome, and thank you very much. I will be looking forward to your post. thank you.

• United States
12 Oct 11
aw your little avatar is very cute i love him it reminds me of the old walmart logo the little smiley face that went around slashing prices i have never looked on photobucket for anything but it sounds like they have some really good cute pictures i will have to check them out most sites that i look on do not have alot of knitting pictures one time i did find this cute picture of this little boy knitting himself together (kind of hard to explain) but he was really cute i lost the picture i wish i could find it again

• Canada
14 Aug 07
Oh that's adorable! A knitting smilie, it's perfect! :) I was using this picture by Natalie Dee as an avatar for awhile ( http://www.nataliedee.com/gallery-knit.php ), and I even have this pattern on a bag. I thought it would be perfect for my knitting projects!