Not Just for Dogs/Cats... Spay/Neuter Your Rabbits!

United States
July 15, 2007 3:07am CST
Today I was reviewing an adoption application for a prospective kitten adopter. For other pets they listed that they had an intact female rabbit. I asked them why their rabbit was still intact. I was amazed at the answer. They said "because spaying doesn't have any health benefits for rabbits and she's not around males." Rabbits in nature give birth to tons of offspring (thus the saying "they breed like rabbits"). As pets, hopefully this isn't true. However, even if you aren't breeding your unspayed rabbit, she has other risks. Rabbits are highly susceptible to uterine cancer. It's a big killer for them. That alone should be reason enough to spay a rabbit. But for both males and females alike, spay/neuter in rabbits has great behaviorial benefits. Males will often spray if unneutered. I don't know about you, but I wouldn't find that very pleasant to have rabbit urine sprayed all over my stuff. Males and females are more territorial if left unaltered. And both have better litterbox habits if altered (because they won't be marking with urine and poops). So this has been my public service announcement for the day... if you have a rabbit that isn't fixed, get it done! For more information, see: http://www.associatedcontent.com/article/103058/why_you_should_spay_or_neuter_your.html
2 responses

• United States
13 Sep 07
Hi, I have two rabbits who are fairly young (about 4 months). They both have sperate cages. I do not want to put our rabbits through surgery unless we absoluty have to but recently someone (actually a vet) told me that the males get aggressive if they are not spayed. Is that true? I have not heard it anywhere else. I went to an agricultural school which taught about animals and they never mentioned that about the males. I'm not sure if this is true, or if the vet was uninformed, or if the vet is just looking for extra money and business. Has anyone else heard about this?

• United States
14 Sep 07
Actually, that can be true for both sexes. That unaltered they will be more likely to be aggressive. It has to do with being territorial. Both males and females will be more territorial if unaltered. You'll often see cage aggression. I don't normally keep my rabbits in cages (they have fenced off areas in the house), but when I used to have a couple foster rabbits at a time, sometimes I would see some territorial cage aggression before the rabbits were spayed/neutered. I go to an agricultural college as well and we're unfortunately very behind on anything not having to do with farm animals. But good vets will tell you to spay/neuter rabbits for health reasons (as well as the behaviorial reasons). It's not just to make money. In fact, you may even be able to find a low cost spay/neuter program that accepts rabbits in your area. I was able to get my female spayed through a low cost program. Which was great because I didn't even plan to get her, I just happened to find her. But yes, definitely get both of your rabbits fixed. Females have a very high incidence of uterine cancer and males often spray urine if not altered (believe me, it's not pleasant!). So definitely get it done.


• United States
15 Jul 07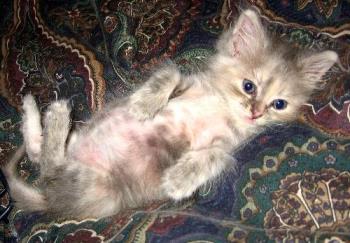 we had to share an adoption day with the rabbit people one day. I was glad to see that they required all their rabbits to be fixed. I have enough on my hands with cats, the only unfixed one of the bunch is the baby who is only know about 8 weeks old.

• United States
15 Jul 07
Most of the rescues/shelters out here require rabbits to be fixed now. There was one rescue that I was disappointed to see did not require rabbits to be fixed. They only rescue baby animals and they adopted out rabbits for $5. Ugh. But all reputable rabbit rescuers I've met make sure the animals are fixed before adoption. And it's certainly nice to see the shelters catching on as well (even though that's more by force of legislation now). What a cute kitten you've got there! I bet she'll get adopted out fast. :)