Do you like Julia Roberts?

United States
6 responses

• United States
15 Jul 07
i would have to say erin brockovich or pretty women was good but i thought erin brockovich had 2 qualities her acting ability nd a subject that should make us wonder what we are putting in our bodies HMMMMMM all of her movies are good

•
15 Jul 07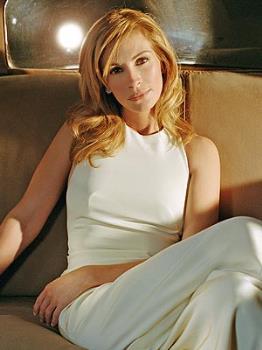 I've always been an admirer of Julia Roberts, loved her in Pretty Woman most of all as well as Runaway Bride, My Best Friend's Wedding, Notting Hill and Erin Brockovich. I found her fantastically fun when she guest appeared on Friends years ago and would say I least liked her in Closer which I found to be a depressing film with quite self-centred characters.

• United Kingdom
20 Mar 08
The only film that I like Julia Roberts in is Sleeping With The Enemy, I loved that film and have watched it over and over again, I don't like any of the other films I am not a big Julia Roberts fan, she may look pretty but to me she doesn't float my boat for her acting skills.

• Kuwait
18 Oct 07
Yes, I do Like her very much and i almost watch all her movies,, and still looking forward to watch more of her movies... and chaterine Zeta-Jones also love them...

• Israel
18 Aug 07
I love her so much she's an amazing actress I like all her movies, she can play every role in her finest

• Sri Lanka
17 Aug 07
Yeah I like Julia Roberts too. She is a geat actress. She has a special smile. I think she is a good entertainer