What's the story behind your tattoo??

Malaysia
July 16, 2007 12:37pm CST
I find tattoos really fascinating, especially what lies behind the design. I really love watching 'Miami Ink' especially since there's always a story behind each and every tattoo.. It really is interesting. I used to think that tattoos were ugly, but now my perception towards it has totally changed. So back to my question, what's your tattoo all about? Why did you pick that design and what's the significance of your tattoo? I'm really interested to know, so do share.. Thanks guys~! :D
7 responses

• United States
17 Jul 07
One of my tats is a tribal around my right ankle. The "base" is a green tribal band. Over that in purple are 3 tribal zodiac signs. Aquarius, because that's my sign. Capricorn, because that's my son's dads sign. And Taurus because it's our son's sign.

• Malaysia
17 Jul 07
Woww.. That's so sweet! It's cool how you incorporated all those 3 signs into a tattoo.. Awesome! Picture?? :P

• Malaysia
18 Jul 07
Woww! I think it's really pretty, especially the color combination. I think the green and purple go very well. I like it!

• United States
16 Jul 07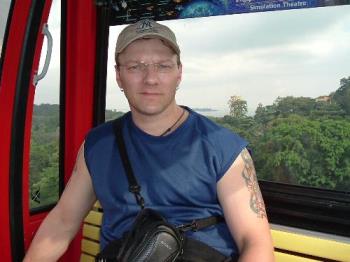 I don't have tattoo, i ahte pain of making it. But my hubby have 4 big of them. 2 on his arms is the asian God of war. He got the pictures on his trip to Seoul, but he made the tattoos in West Viginia, US. i pt a pic of him, maybe you can see a glimpse of those big tattoos there

• Malaysia
17 Jul 07
Cool~! What does the God of War represent to him? That's really interesting.. What are his other 2 tattoos?

• United States
17 Jul 07
well, my husband used to serve in military. And he's really good with martial art ( especially tae kwon do ) that's why he got the chance to xisit south korea. And he found this beautiful pictures of that God of War. The other tattoos are on his legs, and it more represent of his rank or troops in his military.

• Malaysia
18 Jul 07
Owhh.. ic! Now I understand why he got that tattoo.. Cool...

• United States
17 Jul 07
I have 5 tattoos but the one that is the most meaningful for me is my wedding tattoo. My husband and I got matching tattoos a couple of months after we were married. It is of an angel and a devil embracing and mine has his name above it and our wedding date below it..and his has my name, ofcourse, lol.

• Malaysia
17 Jul 07
Woww.. that's pretty neat! If only I could get one. :( I love reading all these tattoo stories. It's really interesting! Thanks for sharing~!


• Malaysia
17 Jul 07
Nice... I think that suits you well.. Did it hurt to make a large one? I can't imagine..

• United States
17 Jul 07
I have a smiling sunshine on my ankle. I got it because I love suns, stars, moons, etc... (I even have my bathroom done in the celestial theme.) I want to get another one on my back of my son's first name. I just have to make the time to go get it done. My hubby has a bulldog with USMC on his arm. He was in the marine's so that's why he wanted that one.

• Malaysia
17 Jul 07
Nice!! Getting your son's name tattooed would be awesome! Wanna share a pic of your tattoo?

•
16 Jul 07
I have four tattoos. Each one is unique and all my own artwork. My first is a small dragon, curled up asleep. I love dragons so this one is simply a one off of my own. The second tattoo is a portrait of Brandon Lee from the movie The Crow, it took me ages to get it right but it looks great. The third is also from the Crow, the outstretched wings of the crow and my fourth is a dreamcatcher with a spider web and a small red back spider

• Malaysia
17 Jul 07
Woww.. you must really like Brandon Lee. It's cool to be able to design your own tattoos. What does the dreamcatcher and the spider signify to you?

• United States
16 Jul 07
If I could get one, (I can't because of a blood disorder),it'd be something for my dog who recently passed away, maybe his face and dates.

• Malaysia
16 Jul 07
That would be really cool~! I see lots of people who actually have the portraits of their dogs as tattoos. I think that's pretty cool. Too bad you can't get one though.. :(