Do You Always Wash Your Face Before Bed?

Canada
July 17, 2007 5:02pm CST
Do you always remember to wash your face and go through your skincare routine before going to bed? It makes a huge difference in the condition of your skin if you can just remember to do it everyday, but I personally have a hard time with it. It is one of the goals that I have set for myself to meet in my new home. I find even sometime when I do take the time to wash up I won't take the time to use my products the way I should and I really want to start doing that. Do you wash off all your makeup anf use moistureizer and stuff before going to bed for the night?
5 responses

• United States
18 Jul 07
My mom was very strict when I was growing up so I stayed in the habit of washing my face and brushing my teeth every morning and evening. At my age, I also put on anti-wrinkle cream and a frownie, lol. It's a triangular shaped type of paper that you wet and stick between your eyebrows to minimize that frown line. I look super silly but who cares..;-)

• United States
18 Jul 07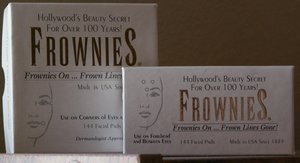 I get them at a local Walgreens. If you do a search for Frownies, several sites pop up. They are affordable and there are 144 per box so they last a while. They really do work well. I don't know about the other ones for the eyes or around the mouth, but I use the triangular ones for the frown line between the eyebrows.


• United States
17 Jul 07
Yes, I always wash my face before I go to bed. I have bad skin. I wash my face whenever I wake up in the morning and I wash before I go to bed everyday. Yes, I wash the makeup off too and I moistureizer afterwards. Thats part of my skincare regmin. Sleeping with makeup on could cause your face to break out, so it is best to always wash your face before you go to sleep.

•
17 Jul 07
No, I know that I shoudl but usuall;y by teh time I have finished getting my daughter settled for bed, put her back in it about 5 times while tidying up the days mess, I often forget. I should take more time out for myself but then as a mother we rarely do.

• Malaysia
17 Jul 07
I gotta admit that I don't. My mom keeps on telling me to do so, but I can't seem to maintain the routine. Sometimes I'll start doing it for a week and then I start slacking again. I have all sorts of skincare products that just sit on my dressing table. What's worse is that sometimes I can't even bother to remove my makeup before I go to sleep. I know. Very bad. I don't know how to keep the ball rolling. This discussion is kinda motivating me to start again..