which food do u like the most?

India
11 responses

• India
18 Jul 07
all things dependind on my presnt like

• India
18 Jul 07
ilike neyyappam neyyappam and aneyyappam

• United States
18 Jul 07
Seafood is by far my favorite food. I eat a lot of it for health reasons and because I enjoying cooking a lot more than I do other things. My favorite seafood is probably salmon or swordfish grilled with some type of citrus sauce on it.

• India
18 Jul 07
nice,were r u lving near coast aeria?

• Philippines
18 Jul 07
i don't have a favorite food but right now i'm leaning towards fish. i'm so tired of always ating meat, pasta, rice and fastfood take-outs... i just long for a homecooked fish dishes.

• Philippines
13 Aug 07
Mine is Pizza and fries i always have fries stock on our freezer.I always cook fries deep with mayonnaise.yummy!!!!

• Malaysia
13 Aug 07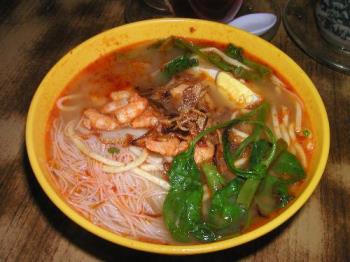 There are lots of various delicious foods that I like. Here I would like to share with you one of my favorites. The shrimp noodle is quite popular in our region. It is basically noodles in soup with shrimps or prawns as a main ingredient. This food appears to be quite attractive with green vegetable, shrimps, egg slices and friend onions on top of the noodles. This bowl of noodle is spicy and people like it bcoz of its burning effect when it served hot, yummy...yummy...

• Hungary
12 Aug 07
Maybe the pasta is my favourite food. But of course I could not eat only pasta....

• United States
12 Aug 07
My favorite food is Chinese food from Bill Lee's here in the town where I live. I don't like it from any place else and I always order the same thing. I think that I might be set in my ways.

• Australia
3 Aug 07
i would have to say chicken, i love chicken lol... i could eat it every night of the week but my partner doesnt like it that often lol. i also like bake pumpkin

• Philippines
30 Jul 07
My favorite food is chicken and pizza... I can live my whole life eating pizza... mmmmmmm I think Im craving for one whole.... :D