Have you ever stuffed your own bear?

United States
July 18, 2007 12:43am CST
I know that sounds a little strange. But two years ago my husband and I went to Tenn. for our honeymoon. While we were there we went to Boyd's Bear Factory and got to choose our own bear and stuff it our selves. It was great! We had so much fun! Well, shortly after we got back I thought about how fun it was and how I knew my kids would just love to do that. Only thing was it was expensive. For my husband and me to stuff our bears, his being a groom and mine being a bride, was almost $100. Well, we have four girls and that means it would cost us close to $300 for all of us to go. So, I did a little research and found a site online that offers the same thing. Only way cheaper! Then found out I could sign up and actually host parties and such. I thought ok, why not? Well, I joined and then life turned it's ugly head and things got real busy with work and everything else. A few days ago, I got an email from a lady who wanted a catalog. So, I went to the site and my oldest daughter, who is 14, came in and started asking me questions about the site. I told her what it was and she said she wanted a birthday party done with stuffing animals. Of course, her birthday is almost a year away. So, I thought I'll just surprise all my girls. I'm going to be ordering up some bears and letting them stuff their own bears next month! Have any of you ever done something like this? Share with us your experiences! Here's the site for those interested or who aren't sure what I'm talking about! http://www.noahsarkworkshop.com/vickiestrickland_s8574/
6 responses

• United States
18 Jul 07
We brought our girls to the "Build-A-Bear Workshop" on our last vacation. They absolutely loved it! They got to pick their bears, stuff them, and give them hearts. The sales girl even did a little spiel with our girls: rub the heart on your arms so your bear gives you big bear hugs, rub it on your ears so the bear is a good listener, etc. It was very cute! Then we got to sit at the computer and fill out a birth certificate for the bears. I'm definitely going to check out that website you posted. I think that would be a great idea for the next birthday party we have. Thanks for posting!

• United States
18 Jul 07
Thank you! I don't know what it is about stuffed animals or the ability to stuff them yourself, but even as adults we absolutely love it! And to see the smiles on our kids faces when they get to do something this great is so worth it! Thank you! And I hope your girls love it when they get their own bears to stuff at home!

• United States
18 Jul 07
I think it's the fact that we get to CHOOSE how we want our animals to look. We can personalize them and tailor them to our liking, rather than buying one that's already made and not having a choice in what they look like. This actually looks like a really fun thing to do, I'm even considering getting my own starter kit to do parties here! Of course, I have to run it by the hubby first though!

• United States
18 Jul 07
That is true! That's the best part about it! That would be great if you did! We are also starting two new programs next month. One is the $5 gift card that you give away to people for them to purchase from your site. And the other is called Bananas About Books program. It's a way to get kids to read and they get rewarded for it! Hope you get to join and have fun with it!

• United States
3 Sep 07
I have stuffed my face, but never stuffed a bear hahaha! I will have to check into that site and see how it works. I bet it would be fun for the kids at your daughter's birthday party. It sounds like fun for adults!

• United States
3 Sep 07
It is a lot of fun! For kids and for adults. Thank you for your response!

• New Zealand
9 Aug 07
Hi there. Ive never seen nor heard of this place, but its sounds so awsome, especially for the little ones... The only bear I stuffed, was back in my college days, we made "care bears" in our sewing class, I remember making an awsome looking care bear, who had a big heart on his tummy, and little hearts on the bottoms of all four paws, also in his ears too, my bear was black and grey paws, with pink and red hearts... We dont have nothing like "the noahsark workshop" here in new zealand... Great post...

• United States
9 Aug 07
Thank you for your response! That sounds like a pretty cool bear you made! Maybe one day soon, you guys will have that too. I'll have to take a look around Noah's Ark a little more to see if it's offered to other countries!

• United States
21 Jul 07
I've also been to Build-A-Bear Workshop...its the cutest thing I've ever seen...I went once and stuffed a bunny and dressed her in a pink and white outfit for my new goddaughter..I ended up making a bunny for myself..the best part about the store is that they do parties for kids and have them all make their own unique stuffed animal..I must admit, the ones I made were a little pricey, but they were worth it..

• United States
21 Jul 07
That's one of the great things about Noah's Ark, you can have parties where the kids get to stuff their own animal! It's a great experience! I loved it! You can't help but make one for yourself. Thanks for your response!

• United States
19 Jul 07
Arnt those the neatest stores. My son and daughter in law are pregnant and the have a 3 year old, when they went for a ultra sound they asked them if they wanted a recording of the heartbeat so they could put it in a stuff-a bear, they got that done and gave to the big sister so she could be a part of the new baby also, she just loves to tell people thats my babys sisters heart!

• United States
19 Jul 07
Yes, they are the neatest stores! That is so sweet! I wish they had that when I had my kids. I would have loved to have something like that. Thank you for sharing!

• Australia
18 Jul 07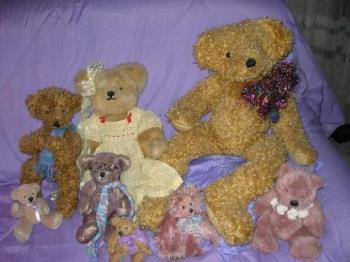 I have made many bears, from the tiniest one that stands 11cm to one that is huge with long legs, it is a good hobby but a very messy one, it can be very expensive or very cheap depending on what sort of fur you use, mohair is very expensive but you know all the bears I have made I still like some of the store bought ones better..

• United States
18 Jul 07
That's pretty cool. I have to say though I'd rather stuff my own and personalize it than buy one from the store. But I've never actually made a bear like what you are saying. That's got to be fun too.