Tell me about your rating!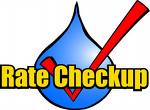 United States
July 19, 2007 7:10am CST
I have noticed that i got a 9 then next thing its down to a 8 and today its at 7. Is this gonna be like my fico score, up and down and that i shouldnt worry about it! Does anyone maintain there rating on here. Also what is the deal with the number besides my name? Is that the number of people who have rated me? I am getting sad and demotivated because some one gave me a bad rating. Or maybe this isnt the case. Can anyone cheer me up and shed some light on this. I am hoping it went down because of some other reason. I am also hoping this wont effect my rate of pay!
2 responses

• United States
19 Jul 07
I like popularity, which means I want my numbers to go sky high. I love my name YESASH to be out there and exposed in a positive way of course.

• United States
23 Jul 07
Well at the time that i responded to your post you have a 9 hopeing that it doesnt crash and rise! At least you know it was a 9 high 5 to you yesash!

• Pakistan
19 Jul 07
firstly i got a 9 after this its down to 8 and 7...now i m using mylot with good manners and use almost every day...and responded almost 20 discussions per da. now my rating goes to 8...