This is what is growing in MY garden...

United States
July 20, 2007 11:31am CST
Some people who drive by our house ask why on earth do you have MILkWEEd growing in your garden? It's a weed? It's a menace!! It's ugly!! Well, I went out today, and found out WHY we have mildweed growing in our garden. Hundreds of monach caterpillars just hatched. Soon, we'll be watching the little chrysilis forming, and have monarch friends. Hope you enjoy, and keep those milkweeds!
9 responses

• United States
20 Jul 07
I can't believe people driving by would ask such a question. LOL It is a great idea growing plants for butterflies. If we eradicated all of the milkweed then where would the butterflies lay their eggs? Maybe in our Echinacea or Rudbeckia. I vote for keeping them in the milkweed. At least that way we know where they are. =)

• United States
20 Jul 07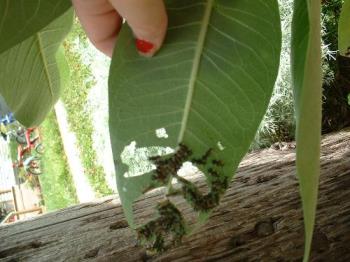 Hee hee! I agree. The flowers are kind of attractive, and they do smell nice, as well. I'm just going to have to figure out how to move them, since the "weeds" are at the end of my driveway. LOL!I forgot to attach the photo to my original post, so I'm going to try it again... They can sure do a lot of damage, can't they? LOL! Good thing they are on the "weed."

• United States
21 Jul 07
They are very destructive to ONLY the milkweed. This is great. So if we let the milkweed go long enough they will get rid of it for us. LOL You should take the milkweed seeds and put them in an area on the border of your property so they butterflies can be in a location better for them. I read up on them. The larvae eat milkweed. I doubt a Monarch will lay eggs on anything but milkweed in the wild but if it did, the larvae would die. Here is a link for everyone who wants to learn more about the Monarch. http://www.learner.org/jnorth/search/Monarch.html

• United States
24 Jul 07
WOW! That's great stuff to know! Thanks for the info. I know that the kids have truely enjoyed watching these little buggers crawling around on the leaves. :)

• United States
24 Jul 07
As long as you harvest the seed pods before they burst, you can control where they go. In my neighborhood, I would just point to other people's yards--there are a lot of weeds in the neighborhood. So many, that I am finding that I need to plant mints to get rid of the weeds. I would rather have the milkweeds rather than the thistles that my neighbors alloow to go to seed. LOL.

• United States
24 Jul 07
I'll save you a seed pod, then morgandrake! LOL! I'll try to plant the milkweeds in a different area of my yard for next season. Preferrably, one that isn't on the end of my driveway! :)

• United States
20 Jul 07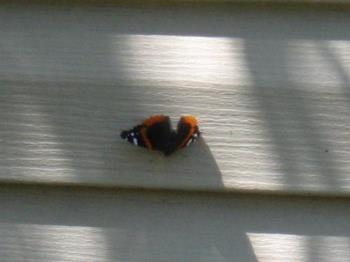 Monarchs are great for the pollination process of many fruits veggies and flowers. I have a wide variety of butterflies around due to a lot of strange weeds but many of the flowers I grow attract them. They are so fun to watch also. Heres one that landed on my siding. HAPPY POSTINGS FROM GRANDPA BOB!!~

• United States
20 Jul 07
That's such a pretty little bugger. Thanks for sharing him with me, Bob! I do enjoy watching them float around the garden. It's pretty relaxing, really. :)

• United States
21 Jul 07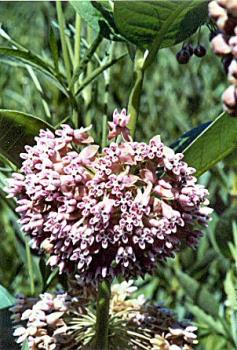 When I was a little girl my grandmother grew a plant called snow on the mountain. When I grew up and lived in Junction City there were pasture out side of town with a lot of snow on the mountain growing in them. Any plant is a weed only if it's growing where you don't want it to grow. Milkweed is a beautiful plant both for it fragrant blooms but as you have found out a great place to raise monarch butterflies. Just tell those driving by that it is you future butter fly garden. The monarch is have a tough time surviving because of the pesticides. There was a farm in Nebraska that raised milkweed by the field for the fibers in the pod to use as down in jackets. It is too beautiful to call a weed. Besides if you have to buy seed for it's not a weed

• United States
24 Jul 07
I believe Henry Thoreau (SP??) once said... "A weed is a plant that is in the wrong place at the wrong time." I truely belive that. I have thistles growing in my hosta garden, and decided to just leave them there. (I can't find my leather gloves to pull them out!) But the blooms are really pretty, and the birds eat the seeds. SO, another weed "domesticated." LOL!

• United States
24 Jul 07
I agree with you and Henry Thoreau "A weed is a plant that is in the wrong place at the wrong time." If you like it and it's pretty it's not a weed. By the way how are the catapillars doing. They are so fun to watch. Did you know that as they grow they shed their skin? Each time that they do they look a little different. Something fun fot the kids to watch them changing

• United States
24 Jul 07
I haven't been out to check them lately. The kids are all out there inspecting them, though. We did find one about 1 inch long the other day. It's so cool all the stripes, and how they just bulge. Those little critters sure eat a lot! :)


• United States
27 Jul 07
Thanks dbhattji! They are really amzing little creatures. Their bodies are getting so big, all they do is eat! When they turn into butterflies, it will be amazing, I'm sure. :)

• United States
23 Jul 07
Wow! That is too cool. You should go out every day or so and take a picture and begin a picture story keeping us all up to date on their progress.

• United States
24 Jul 07
SHoot, I wish I would have thought about that. I haven't been out to check the 'pillars lately, but I think they are still there. The leaves are getting a really pretty lacey look to them. :)


• United States
24 Jul 07
Well, if you are ever in the neighborhood, you may stop and ask. I wouldn't mind.

• United States
21 Jul 07
I miss milkweed, it was so abundant in upstate ny... not here though. I used to love to play with it as a child. then as a teen I was fascinated at it being the plant prefered by the monarch butterflies. I am told that you can eat the tender leaves in salad, but I am not so sure about that?

• United States
24 Jul 07
Hmm..I think I'll leave the milkweed for the wormys to eat. I don't think there is a single leaf that hasn't had a little something making lunch. HEEHEE. I remember playing with the seed pods when I was younger. I cried when I broke it open. But, was surprised when all the "fluff" came flying out.

• United States
20 Jul 07
I didn't know the butterflies liked milkweed. I will never mess with it again...:}. Got to have a safe place for the butterflies.

• United States
24 Jul 07
Glad I could make a milkweed "convert" out of you! LOL!