Very Brilliant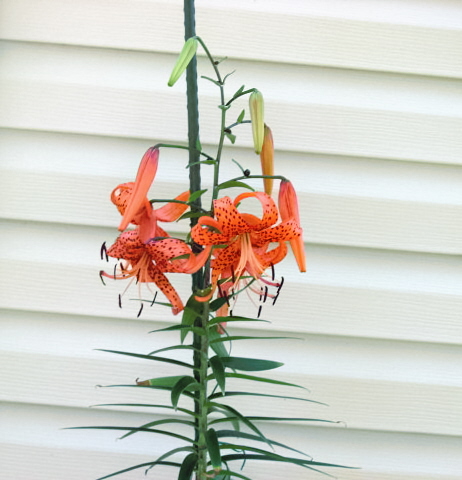 United States
July 20, 2007 1:49pm CST
This is always the last of my Lilies to bloom. They have a lot of buds left to enjoy when they open so I am happy about that. These are the only Lily plant I have that are the turned down type of flower. Instead of pointing upwards the point downwards. This is about 3 feet tall also. It sits on the side of my house. I hope the seeds I collected from it will grow next year as these are absolutely georgeous in my eyes. Thanks for latting me share my flowers all year with everyone here. HAPPY POSTINGS FROM GRANDPA BOB!!~
7 responses

• United States
21 Jul 07
I thought lilies where from bulbs and not seeds. I guess I was wrong. Oh well live and learn. My flowers in the cart are doing great. I will be sending an updated picture later. I will rate the photo when I see it. LOL

• United States
21 Jul 07
Lilies are bulbs when you buy them. But the female plants do get seeds on their leaves every other year I think. And I mean a lot. From this one Lily I've gotten maybe 150 seeds. HAPPY POSTIMNGS FROM GRANDPA BOB !!~

• United States
21 Jul 07
I think these are my favorites in the lilies, and that is mainly because they bring back childhood memories. I was not allowed or encouraged to spend much time with my dad's parents, but I remember for my fifth birthday I went over there, and grandma let me play in the sprinkler in my dress. She had lilies that looked like this and I also played with the roly polies. All those great memories rolled into one, and they bloom right out with the lilies.

• United States
21 Jul 07
Cool. I also really love the down turned flowers. Different looking as opposed to my other lilies.

• United States
20 Jul 07
You sure do have some beautiful flowers. This one sure is unique. I love lilies. I hope the seeds you collected do grow next year. Then you will have a lot of upside downward plants..LOL

• United States
21 Jul 07
I hope so also as the oprange is my wifes favorite ones.

• United States
20 Jul 07
Oh no-- the last of the flowers- How about late summer flowers- Oh wait you said last of the lillies- This is gorgeous- I love the color- I love seeing your pictures of the flowers and the garden and apples too of course- Keep it up- Glad to see you back again!

• United States
21 Jul 07
last of the LILIES. I've more that are flowering still. Hee hee!!! HAPPY POSTINGS FROM GRANDPA BOB !!~


• United States
21 Jul 07
Once again, truly stunning. My grandmother grew lilies when I was small. She always loved these the best. i believe they are called Tiger Lilies. Now don't quote me on that one, I am trying to remember. My grandma passed when i was 10, so we're talking YEARS ago. I wish I had a green thumb. I killed a house plant and a soy bean plant my son brought home in the past 2 months. I guess I'll just have to live vicariously through your photos...lol

• Australia
21 Jul 07
Iy\t really is quite stunning. A few of those could form a lovely border. I viewed your photo, rated it & wrote a comment.