Pacifiers or binkies..Are they safe for infants?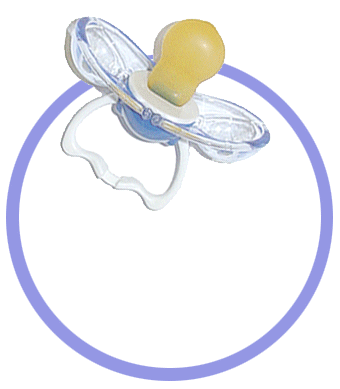 United States
July 21, 2007 1:12am CST
I never wanted to give one to my newborn,but when he was born the hospital staff give it to him and now he is so use of it that he wants to sleep with it,if he is crying and I put it in his mouth he stops crying and sleeps,I just wanted to know is using ppacifier so much is safe for infants(babies under 1year),I am a first time mom so Don't have much experience.Help me out!!
4 responses

• Australia
22 Jul 07
It was VERY wrong of the hospital to give your baby a dummy without asking your permission first. It's not up to them if your baby has one or not & i know there are a few parents who choose not to let their kids have one. They are perfectly safe & we only used one because our daughter started teething at 4 months & was always irritated, she didn't like it much to begin with but after a while she loved it & it helped with her teething. She's 13 months old now & still has one but only for sleeping with :) They are designed for newborns & up so of course they are safe, it's not like he's going to chew it off - especially if he hasn't got any teeth! Also, when the teeth start coming in, they are good for soothing the gums & he'll know by then, not to chew at it! Although chewing on them is ok too coz the teets are strong. If you have any concerns, replace them on a regular basis so the rubber doesn't have any time to wear out - or buy lots of them so that your baby doesn't use the same one constantly - then they will last longer & have even wear - just stick with the same brand coz my daughter tried heaps & only ever liked the 1 brand coz the others had teets she wasn't keen on sucking on! Good luck!

• Singapore
22 Jul 07
A safe pacifier should be at least 1.5 inches across to prevent choking. Many babies develop rashes from the constant moisture under the pacifier shield, so look for pacifiers that have vent holes in the shield to let air get to baby's skin. Glow-in-the-dark pacifiers might be easier to find at bedtime. Be sure the pacifier can be boiled or put in the dishwasher for cleaning. No matter how tempting it is to tie a pacifier to your baby, don't. Pacifiers get lost a lot, but putting a ribbon or string around baby's neck or tying the pacifier to clothing carries too great a risk of strangulation. If your baby keeps losing pacifiers, look for a sturdy pacifier clip at the store.

• United States
21 Jul 07
It's completely okay as long as you do what you need to do to be safe. Your question about it being safe for a baby under 1 year. That is when it is best, it is actually recommended to take it away after the first year to prevent dental problems. Pacifiers can be very soothing to baby, that's why he quiets down after given the pacifier. A security thing, I suppose you could call it. I actually wrote an article on this subject recently on Helium. If interested you can read it by going to http://www.helium.com/tm/459232/pregnant-first-truly-exciting

• United States
21 Jul 07
Thanks alot..it was very infromative and kind a give me satisfaction.thanks

• United States
21 Jul 07
Binkies are mostly safe. I have a disabled child who still uses hers because of sensory issues and she will chew her hand until it bleeds if she doesn't have one. She puts the whole thing in her mouth quite often. The only time to worry is if the child chews the part that goes in your mouth off. Then the rubber could get stuck down their throat. But this is not an issue for babies.