When your friends battle..and your stuck in the middle...~~~~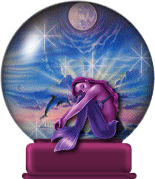 United States
July 21, 2007 11:17pm CST
Hiya there..I was wondering if anyone has any problems like this..I have 2 wonderful friends,that got in a huge fight with each other at one time..now they cant stand each other..i love them both with all my heart and although we do different things together,,when one of my friends see me with the other i can feeeeel the piercing eyes threw my veins..lol lol..I feel as though im cheating on my other friend..hahahah! isnt that rediculous? but thats what i feel..has anyone else gone or is going threw this? what do u think about the situation??
8 responses

• United States
23 Jul 07
Oh man. Well luckily I haven't had to go throw this. I guess the best course of action is to keep doing what you are. Though there are moments that are uncomfortable at least this way you still are friends with them.

• Malaysia
23 Jul 07
If I were you, I would get them together and I will try to solve the problem face to face with them. I have to do it, because I am the only medium they have to communicate. I believe both of your friends are still wishing that they didn't fight in the first place, but because of ego or something else they didn't want to be the first person to apologize. You should initiate the first step for them to meet together. After that, I am sure you will be together, you threesome. Good luck! God bless you!

• Philippines
23 Jul 07
i am a person that cant stand that my two friends are now enemies so i make ways for them to make amends..

• Malaysia
23 Jul 07
i have two friends who are not on talking terms. we were in college together and were best of friends for over 10 years. i left for to work in another country but still get together to play golf with them every few months. over a year ago those two stopped talking to each other. apparently one cannot separate work from personal life. the other is too stubborn and refuse to make up. thanks to the other ones' inability to see that work is work and anything outside work is totally different, they are at war. Me? i am in the middle. imagine i have to go to 2 separate golf events just to play each of them! they are cool with the fact that i do not take sides. i have refuse to be the referee in this situation and they both knows it. heck they are grown men! childish maybe, but both are still single heterosexual male, hold extremely high paying engineering jobs, both well built and handsome, have everything money can buy except wives. they both are married to their jobs! do i feel like i am cheating on anyone of them? no. i just refuse to be drag into childish BS. they are happy i do not take sides and also the fact that I refuse to listen to each grouses, so everyone is happy at the end of the day. the best part is they both schedule their time when i am in town so i have the opportunity to meet with the other person! isn't that cool or what!

• United States
22 Jul 07
I do have a couple of friends that don't get along. I told them both, that I have nothing against either of you and am not staying away from the other because the two of you cannot get along. I will not talk about either of them with the other. If they say something about the other, I just look at them and say, I don't want to discuss it. As they have both asked and gotten the same reply, they are more comfortable with the situation.

• United States
22 Jul 07
Yes! but with me its with a family member (cousin) and a friend- they both can't stand each other anymore- and both play the guilt trip on me when we get together- It stinks- It doesn't get any better- unless they become friends again- But I set them both straight- I won't talk about either of them with the other- and I will remain close with both- it's just hard!

• United States
22 Jul 07
Been there. It's tough. You don't want to take sides, but sometimes one or both expects you to, and it seems not matter what you do, you end up losing out. Good luck. I have no solutions for this type of predicament, that's why I'm something of an antisocialite, because people are too quick to hate.

• United States
22 Jul 07
I didn't have exactly the same situation, but a similar one. I had two best friends. They were totally the opposite. Their views, styles of dress, everything. But I loved them both dearly. I tried to divide my time between them equally. Didn't mention one to the other. Didn't try to reconcile them either. But they weren't angry with each other. They just couldn't stand each other. However, I think I benefitted from knowing both of them. Why? Because they were total opposites. Every topic we discussed, I saw the extremes of each side. So I would think about both opinions and form my own. Usually mine was somewhere in the middle. None of the above was probably much help since your friends are angry with each other. I hope they don't try to make you choose between them. Hopefully, they will find a way to make up or at least leave you out of it.