Constipation, not a good thing! does it bother you or your kids?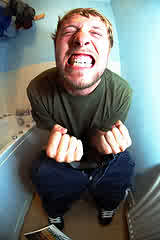 Canada
8 responses


• Canada
23 Jul 07
My Mom had this problem all her life, and she got addicted to Laxatives. I'm not sure which one it was because it was a long time ago. So I determined I'd never have that addiction. I eat the food with fibre, like oats and bran, lots of greens veggies in the raw. And it works well for me!

• Norway
23 Jul 07
I completely agree that you should always do whatever you can with fiber rich foods. My diet has been set up in cooperation with a dietician, and is very rich in fiber. That does not always work for me though. herbalax is from the healthfoodstore. it clarely states how you are supposed to use it, and if guidelines are met i think that it will be ok. But I agree, you should be cautious.

• Orangeville, Ontario
23 Jul 07
Stay off the constipating foods and eat fibre and lots of fruit. Prune juice is an excellent way to keep you regular. There are some vegetables that can be constipating like carrots and peas. Rice also can be constipating. These are the things I was told to keep my baby off of when she was constipated. I am sure they also hold true for adults. I have IBS (Irritable Bowel Syndrome) so I cannot say what works for me will work for another person. The slightest wrong food can release my bowels in a hurry, but I can feel constipated an hour later. So I am not one to give my own methods because they may not work for those who are healthy. But the things I said in my first paragraph should work as they did for my daughter who was constipated as a baby, and then again as a two year old when she constipated herself because she didn't want to go poo in the toilet.

• Canada
23 Jul 07
yes, you have That right! I find I can eat anything as long as I don't forget the good stuff. In the spring I eat rhubarb, and that really works. Some people say cheese is constipating, but its not for me. I love raw Cabbage with diced green pepper.Lots of raw fruit too. I never take a laxative. That can be addictive, and then the trouble starts!

• Canada
23 Jul 07
There is lots of carrots that are sneaked into the mixed vegetables here, and every main course we get from a restaurant usually has carrots in it. I wondered why I had the problem wen I went on a trip. What I do is to eat whole grain products like whole wheat bread and rolled oats. I have started using whole grain pasta rather than the regular kind. I heard that raspberries are especially good for you. I found if you eat lots of green salads, it helps as well. I found that for me, chocolate seems to help, but I cannot understand why.

• India
9 Dec 08
Regular exercise, proper food diet, intaking of liquids in balanced amounts may give fastest relief for the constipation problem.

• India
15 Dec 07
Hi there.. I agree, its a very bad thing when it happens.. I don't get it often, very rare.. And whenever I get them, I take a pill to relax which wards off the constipation.. I don't remember the name of it as I only have it when I get constipated and that happens very rarely...

• Philippines
1 Aug 07
Yeah, I am one who gets constipated once in a while. But I've got used to it. I have incorporated veggies and fruits to our meals on a daily basis and try as much as possible to stay away from fatty foods. But, I'm more concerned with my baby who is turning two this year. She really has a hard time moving toxins out of her system. She likes fruits very much, but it still bothers me why she's constipated. We've resorted to decreasing the scoops of her infant milk lately, but we still have to see if this one works. I hope & pray that she does outgrow this one, and be healthy for always.

• Philippines
31 Jul 07
I think being health concious can help get away from constipation. Drinking plenty of water and eating food rich in fiber can help. Also an excercise daily can keep constipation away. God bless!

• India
24 Jul 07
Sometimes one can get constipated if one is sressed out and does not eat well balanced diet and is prone to it. I feel one should eat lot of yoghurt instead of milk, eat lot of fibres in form of fruits and vegetables, drink plenty of water. It will help. Cheers:)