People's President Abdul Kalam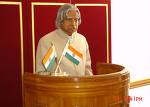 India
July 23, 2007 2:28pm CST
I am really a bit off in mood because we are going to loose a great President, who is loved by every Indians. The true People's President took the formal farewell today in the parliament to give the way to the first ever Woman President of India Pratibha Patil. I think in my life I have never seen such an active President, a really encouraging personality I have seen on Dr. Kalam. May be he is off his work but he will remain our People's President - the most popular President of India. I salute Dr. A.P.J.Abdul Kalam. What about Indian's in mylot? I hope every one have a salute on his last day at President's Office and wish him all the best.
7 responses

• India
24 Jul 07
I fully agree with you. He is one of the greatest, least controversial, dedicated to the nation and its people president India has ever seen. I wish the politicians should have had some common sense in reelecting him as president. He was a guiding source for scientific community in India. Regarding earning sites, please see your message box.

• India
9 May 10
Very true, i was wondering why so soon the day has come for him to come out of the chair. I wish if he stays permanent president of India. Will any one change this law and rule i would be happy. I admire this great man!!

•
13 Sep 07
Yes I also believe that he was the people's president...after being on the highest position he is so down to earth..his efforts in DRDO and ISRO are remarkable.

• India
24 Jul 07
Yes,of course...Abdul Kalam was an outstanding personality. The title "People's president Abdul Kalam" attracted me very much. Definitely we will miss such a personality in future. I too salute Abdul Kalam,,for he has always worked hard for making India a developed nation in the world. His efforts deserve great respect. Today we have the first women president of India Prathiba Patil. She has been in the government previously...Wishing her a good tenure as Indian president.

• India
24 Jul 07
i agree.he is a great human.i have got chance to visit him once.he love kids and always help and encourage talented people.when me and my friends went to visit him (he came to our school) he put his on our head and give blessing!he is really a good person.


• Philippines
24 Jul 07
good for you indians, i do hope that our country may have a true people's president as well.