reese peanut butter and bananas

United States
6 responses


• United States
26 Jul 07
yes it still a reese cup just with the banana cream added i liked it.

• United States
26 Jul 07
OMG! that sounds soo good! when did it come out like this week soon? I never heard of it..and now im psyched to get some!! Reeses PB cups are my ultimate favorite ever! Now to add nanners! whoo hooo!!! that sounds just fabulous.,,when i get downtown ill pick some up..and let u know how i loved it lol..hey wanna know what else is good? when you make smores..well if you do that is..instead of hersey bar use REECEY CUPS! OMG!! ITS SOO GOOD! YOU WIL BE IN HEAVEN!! well take care..and thank you soo much fo rthe information!! April

• United States
29 Jul 07
Hey April, that sounds so good I am going to try it, it just might become our all time favorite.Thanks

• United States
26 Jul 07
Yes, I've tried it. It wasn't too bad, but I like the caramel ones better. I liked those ones that had honey in them, haven't seen them in awhile though. I like the plain ones too.

• United States
26 Jul 07
i have not tried the honey or caramel ones i like the plains ones to thanks for commenting

• Canada
26 Jul 07
I've never heard of that, and if I do come across it, I won't try it either. I can't stand banana, and I doubt I'd like it in a candy. I don't like 'em fresh, so why would I want to eat them in a mass producted candy product?

• United States
26 Jul 07
it is something new they just came out with. i was just letting people know about a new candy if you try it or not is up to you

• United States
26 Jul 07
I hadn't heard of it. It sounds odd but I bet it's pretty good. I know that if you dip bananas in chocolate and then freeze them, they're oh so good! So I bet that would be good too. Lots of countries have different types of chocolate that are unheard of in the US, but so far the things that have sounded weird that I've tried are actually pretty good. Go figure. Everything's better with chocolate on top!

•
3 Aug 07
Mmmm this sounds rather nice. The reese peanut butter creams are lovely but alas I haven't come across any of these new one's with banana's... YET! I shall now be on a hunt until I find them :D

•
3 Aug 07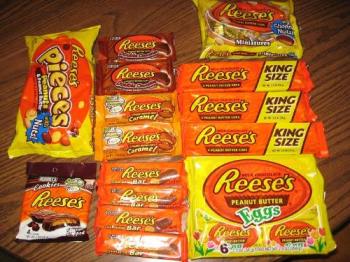 Oops I forgot to attach the image I found. It's Reese's heaven:D