wild flower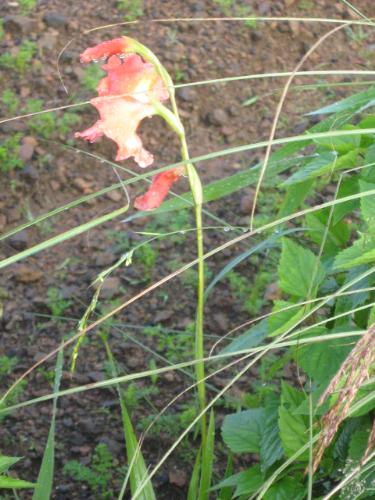 Philippines
July 27, 2007 11:56pm CST
Here's another photo- I actually I took a lot of photos, pity we can only upload one- that I took in my near summit trek. I had no idea what kind of flower it is, I just assumed it to be wild. But a friend says that it is called a Gladiola and that it isn't wild. So I countered, well since I saw it in the wilds, then it counts as one, LOL! So for those who knows a lot about flowers, is the photo really of a gladiola?
4 responses

• India
30 Jul 07
The post shows you have a great passion towards photography.Iam not aware what flower it is but it looks beautiful ..i just enjoy the flowers beauty and have seen some wild flowers look stunning and much beautiful than the ones we grow in our homes.

• Philippines
31 Jul 07
LOL! I guess we'll just have to take our mylotter friends' word that the flower is a gladiola. Now at least we know the name of the flower. And yes, those in the wild are certainly more interesting to look at. Thanks for sharing.

• India
28 Jul 07
this ressembles gladioli - i am not sure though. may be, its another variety of the same flora. the pic looks good in the greens, the orangish red color stands out. thanx for sharing.

• Philippines
30 Jul 07
Four out of four says its gladiola, then it really is:P I also love how it stands all alone in the picture. Lucky for me to have taken the photo.


• United States
28 Jul 07
I don't know much about flowers, but I think your friend is right and that is a Gladiola. If you like to share your photos on the internet you can upload them to a free hosting site(and actually this one pays you for other people viewing the photos, it takes a lot of views to get much though) and you get links for posting the photos on boards, etc., so you could have uploaded more of your photos to this hosting site and then put the links in your discussion by pasting them in. They also have them available in their public galleries which can increase your views, but it also means the photos(which don't have to your own) can be seen by others on the net. If you are interested you can join the site with my referral: http://www.shareapic.net/ref.php?owner=stealth-p

• Philippines
28 Jul 07
Okay, I think I will try that. Thanks for sharing.