Do you save your children's toys?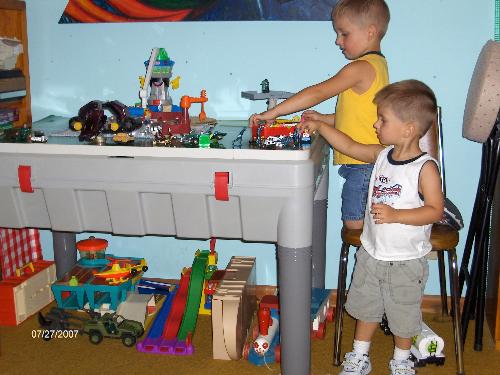 United States
July 28, 2007 11:40am CST
When your children outgrow their toys, do you save them? My wife saved a lot of our son's toys. She kept the small ones in shoe boxes. He always took good care of them and played with them carefully. Some of them have become collectors items. But the most enjoyable thing about saving them is now our grandchildren are enjoying playing with them. We brought out some of his old Star Wars toys and they spend hours with them. And our son is having fun reliving some of his old memories and is enjoying playing with them again. If you don't save the outgrown toys, I would suggest doing that. I'll include a picture of my grandsons playing.
10 responses

• Philippines
28 Jul 07
I had saved some of the toys of my 2 sons who are already teenagers now. I had the toys on display at the cabinet in our house, they're memorabilia of their youth and wish that my future grandkids could use them too later. However, some of their toys I already given to some of cousins and kids who can't afford to buy toys.

• United States
28 Jul 07
Giving toys to cousins and kids who can't afford them is a great way for toys to be used. I would much rather see that than throwing them away. Some people sell them on garage sales so they get used that way too. I just like to see toys used rather than ending up in the junk yard as long as they are not broken.

• United States
28 Jul 07
I've been saving some of my daughters toys. I'll save the ones that she really enjoys playing with. But we live in an apartment and I just don't have room to store everything. With her second birthday coming up I honestly don't know what I'm going to do with all of her stuff. She got TONS of stuff for her birthday last year. She has a lot of grandparents that love to spoil her. So I'm going to have to figure out something to do with her room so all of her toys will fit. I'm going to sell some of them that she's outgrown and never really shown an interest in so that I can make room.

• United States
29 Jul 07
Well...my kids are both toddlers right now. I do plan on saving their fisherprice playsets and their weebles playsets and prolly any other playsets they have (maby). When they get older and into the action figures then Im sure Hubby will want to keep them around, LOL. Hubby saved all of his toys which the kids will be getting when they get older. He saved all of his Teenage Muntant ninja Turtles, matchbox cars, ect ect...OH micromachines...we gave those things to the kids too early and they runied most of them :( They prolly could have been worth something, Later. WHo knnows. I know that those Star Wars toys u have are worth something, ecspecially if they are the origonals. Hubbys sister had a bunch of them and sold them for close to $1,0000. I couldnt believe it. When I was younger I had almost 700 My little Ponies. I ended up selling most of them at a yardsale for like 50 cents each. I wish I would have kept them around though, LOL. Ah well.

• United States
30 Jul 07
Fisherprice has some good toys. They really last well. And the weebles play sets will always be fun for kids to play with. They are good ones to save. Wow on the sale of the Star Wars toys! We still have many of the original Transformer toys. They might be going up in price now with a new Transformer movie out.

• United States
30 Jul 07
Power Ranger toys too a worth alot. You just have to find the right person to pay you for them. Search ebay and check out the transformer toys

• United States
30 Jul 07
I love the picture of the grands! some of those toys look familiar to me... there is a large span in my children's ages ranging from 19th year down to 5 years old. I have kept most the toys over the years, some I have donated some I have sold.... some are just classic that go from child to child. (is that a Hess truck under the chair?) I used to buy a hess truck every year for my godson.

• United States
30 Jul 07
No, it is not a hess truck. It is a NA-CHURS fertilizer tanker. It was given to my Dad when he was using that fertilizer on his farm. He gave it to my son. The company that made it is Tme ERTL, a company in Iowa. The cab opens up so they can see the engine. It is a lot of fun for them.

• Australia
30 Jul 07
So far we have kept all of our daughter's toys, when she outgrows them & we decide we've had enough children, we'll probably give some of them to charity, some can be held on to for our Grandkids & some of the mechanical type ones that are still in good order, we'll probably sell. As much as i'd like to keep them all, since our daughter is an only child for the moment, she just gets far too many toys - especially since there are so many Aunties & Uncles too - my partner comes from a large family so she gets way too many things sometimes. So yeah, some will be saved, some will be sold & others will be given to charity for kids that don't have many or any toys! I think that'll work really well for us!

• United States
29 Jul 07
My daughter saved a toybox full of toys from when she was a kid. I mean, she saved the toybox and left it full of her favorite toys and saved them like that. She did give a few away to her ex-fiance's nieces [she's sorry about that now!] but mostly she kept them. I just had the one girl and she's had three sons so there weren't toys that she wanted to really give to the boys. They mostly only want cars and power rangers and we never had much of that. We pick up a lot of the boys toys at thrift stores for really cheap. That makes us happy and it also makes the boys happy, so double good times!

• United States
29 Jul 07
I dont save toys but my mother-in-law saved every toy she ever had and everytoy her three boys has (she is a very frugal woman) but now our grandchildren are haveing a blast playing with those toys,Like you said some are now collectors items and we have laid those aside. i think its great that someone had the thoughts to save these things as they bring back so many memories.

• United States
28 Jul 07
Well, my boys are still toddlers, but I have saved their baby toys for the next one. I have saved a lot of my own toys, and they are stored at my father's house. I hope that I one day get a daughter that I can pass them on to.

• United States
29 Jul 07
My son is only 5 and has a lot of toys and I was thinking what to do with some of them. I may just keep them but that would depend on storage as well. He already has 3 small bins full and one small box so far. It is filling up fast. I may just hang onto them incase we do have another child.

• United States
29 Jul 07
My son is only 18 months old and he already has so many toys. His bedroom has two toy storage bins in it and he has a toybox full in the family room. His baby toys are boxed up and are going to go to our storage building later this week, after I make sure there aren't any batteries left in any of them. We do plan on keeping all of his toys that he doesn't tear up, though. We want to have at least one more child, so we want to keep the toys for the next baby. That way we won't need to buy many for the next baby. After we are done having kids, we might sell or give away some of the toys, but we plan on saving some of them for our grandkids to play with eventually.