Attack of the Kookaburra....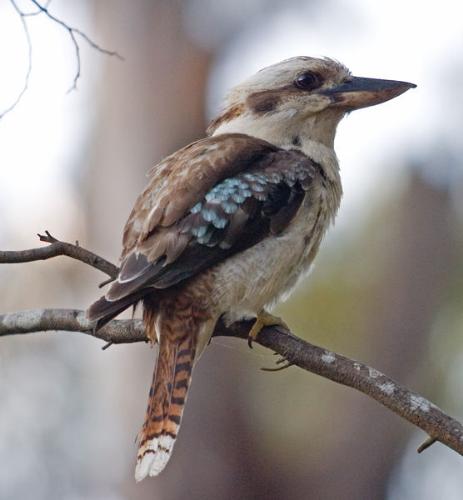 Australia
July 28, 2007 4:26pm CST
Wow...I am going deaf at the moment, There are so many kookaburra's outside laughing and carrying on..They are so loud, there must be a few hundred, I have never seen so many all together at once..they must be having a convention...They sound so beautiful, but very loud... Do you like the Kookaburra laugh? Its quite unique and fascinating ...
10 responses

• United States
28 Jul 07
I just love the strange-sounding names of Australian animals, Calais. I remember hearing the sound of the kookaburra from a nature program I once watched on tv. It is distinctive-I'll grant you that. I read a novel about Australia many years ago. I think it was called The Fatal Shore. It was very interesting. Come to think of it I have read a few novels about Australia.

• Australia
29 Jul 07
The Fatal Shore is quite a famous novel. It is one of the earliest novels describing the settlement of Australia.

• United States
30 Jul 07
Yes, The Fatal Shore was a very interesting book. If I'm not mistaken, I think there was a sequel to it, but I never got around to buying it.

• United States
29 Jul 07
Hi Calais, I just listened to the Kookaburra laugh on an internet site and while I would find that a cool sound at times I think at other times I would find it annoying. From your picture it looks like you get colorful birds in the land down under. I guess the same could be said for all your wildlife. My wife has bird feeders all over the front yard and all our birds look boring by comparison. Too bad they dont have a volume control. Take care, Terry

• Australia
29 Jul 07
We get the kooaburras outside our house occassionally. Normally the sit on power lines. They sit in a line, which loks kind of funny. The laughing noise can be very loud. The cats ignore it which surprises me. A few hundred kookaburras is fairly amazing. I don't thinkI have ever seen so many in one spot. The noise must be deafening.



• United States
29 Jul 07
Can you hear me know?.. LOL...I don't know that I have ever heard a kookaburra laugh..Maybe in a zoo, but not sure. hmmmmm.

• United States
29 Jul 07
That is a splendid idea, but of course I couldn't think of it myself..LOL....What is my malfunction?



• Australia
1 Aug 07
How weird. You wrote this last Saturday. Here, last Saurday, in the morning ...it would have been about 10 or 11am there was suddenly a lot of raucous laughter coming from the paddock across the road. I've only heard one or two solitary kookaburras since I've been here and this was 3 or 4 all going at once and seemingly trying to outdo one another. I've never experienced that before...I rememeber thinking "there must be a kookaburra meeting going on" I wonder what it meant?


• Australia
29 Jul 07
I didn't think there'd be so many kookaburras in the Newcastle area. Is that normal? I live in Queensland and it is a rare day we don't have at least one on the clothes hoist or on the electricity wires outside. They sing brightly almost every morning and add a lot of cheer to the day (though some people are annoyed because they are woken by them!) When we have camps in the mountains, we hear large choruses of them. When my relatives were here from England, they wanted to hear a kookaburra, but could never wake early enough. Thankfully,they did later hear one in the afternoon and were thrilled.