my cat

United States
July 28, 2007 7:17pm CST
I have a bad feeling my cat is dead somewhere. I have had here for 13 plus years.She goes outside and shes beatiful girl.She didnt come yesterday or today.She usually stays close by and comes to me when i call for her..A friend of mine said sometimes cats just disappear and find a place to die. Have you lost a pet this way?I called the animal control shes not there.Im lost for words mylot friends my heart is broken.
6 responses

• United States
29 Jul 07
Sorry to hear about your kitty. This hasn't happen to me but we have had to put a couple of our kittys down because they were sick..It is very sad..I will be praying that she returns..

• United States
29 Jul 07
thank you so much for your prayers.

• United States
29 Jul 07
Oh my god I love you and dont even know you.No sonner did I reply to your post thanking you for your prayer i found her.She was stuck in our closet. I was takling a shower and heard a faint cry and found her. She was severly dehydrated but all is well thanks to your prayer.

• United States
29 Jul 07
awwwww. I am shaking now....I am so happy for you...I was going to ask you if you had looked around the house...Oh, and you are so very welcome..Give her a hug and a kiss from me...This is awesome, I just witnessed a miracle....


• United States
4 Aug 07
yes that has happened to me 3 times it is terrible when u lose a pet and have no sense of closure. u begin to think of all the things that could of happened i had 1 cat i had for 15 years she got out by accident and never came home to this day i wonder what happened to her. someone told me that they saw her being carried off by a hawk they could see her in the air and then the bird disappeared i hope it was ajoke . someone told me they saw her get taken by some people god knows what happened to her i hope if she passed away some 1 found her and gave her a nice burial or some 1 took her in we will never know what happened only god knows so keep thinking good thoughts the cat may still come home check garages and empty buildings near your home she could of got curious and wandered into 1 and cant get out keep checking the shelters dont give up and dont worry maybe god had another plan for the cat

• United States
4 Aug 07
I was already to share in your pain as I di have a cat hat seemed to just wander off and disappear but then I read that you found her! That is so amzing and wonderful. You must be overjoyed! I hope that this week has been good for her and that she has recovered nicely!

• Canada
29 Jul 07
I am so glad you found her! My youngest kitty (I have three) was stuck in the basement for hours the other day. He goes there cause it was so hot lately and it is nice and cool down there. I kept hearing him cry but I thought he was at the back door which is just by the basement. I thought he got stuck on the roof again and kept trying to see him so I can get him down. It is such a horrible feeling to think you have lost a loved one but make you appreciate them even more when they are found fine and well. Congrats! Vicki

• China
29 Jul 07
i am sorry to hear that,but may be she will be back in a few days,take it easy!

• Malaysia
29 Jul 07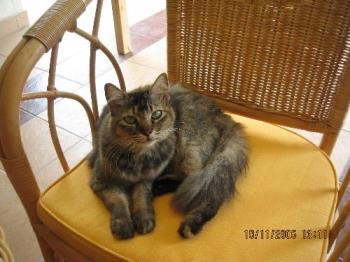 ouhh i'm so sorry to hear that. yeah, i've experience this before. used to have this cat which i loved so much and it did seem unwell for a bit. one day he just disappeared and never came back T_T ..my mom also told me that sometimes a cat knows then it's going to die and they disappear to find a place to die. that's so sad..do you have any other cats? if no, perhaps you can get another cat to keep you company and cheer u up once again. take care:)