What is your phobia?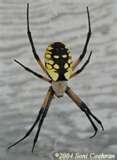 United States
July 28, 2007 9:11pm CST
What is it that you are really afraid of? For me it is spiders. I can't explain why. I grew up on a farm and I used to catch spiders and keep them in glass jars. I don't even know why I did this. Maybe now I am afraid all their relatives are coming after me. lol. Anyway, I am now deathly afraid of spiders. Even a dead one scares me. When I was in my catching spiders stage, I once had a large black and yellow garden spider (like the one in the picture) jump out of a wagon at me. It jumped a long ways. I just got out of the way just in time so it didn't land on me. It seems like I have been afraid of them since then. It makes me shiver just to think about it. How about you? What are you afraid of?
4 responses


• United States
30 Jul 07
there are lots of things that gross me out, or I simply do not like - I do not want to touch them, ewe, or have them brush against me. Other people's germs really bug me - like the gal at the fast food shop that rubbed her forehead with her hand, gave a little scratch then ran her palm up her nose - then packed up the food - well that skeeved me out...or the other one who handed the drink glasses to be filled by holding them with her fingers inside the cup.. yucko!!!! at least the food stuffs were wrapped. actual phobia I guess, though, would be myself being in an enclosed area towards the back. I can recall as a child building snow forts and being the first one in then pushed all the way to the back - all these kids between me and the exit - I thought I was going to suffocate, I was terrified.

• United States
30 Jul 07
I was a manager in a restaurant for 6 years. I had to constantly remind the servers not to handle the glasses up at the top where customers would drink from them. A little common sense and thought is all it would to realize that's not what should be done. In fast food restaurants they will often have their fingers inside the cups when they hand them to us. If we see that happen, we ask for a new one.

• United States
29 Jul 07
Hi, danamark, I have phobia with spider too. Those 8 legged really freak me out. I think that because when I was small, me and my friends played that hide and seek game. The place that I hide has several spiders and they were crawling all over my body.I screamed as loud as I can, while trying to get them off. I hate spiders!