What all things you like to store on your PC's hard disk?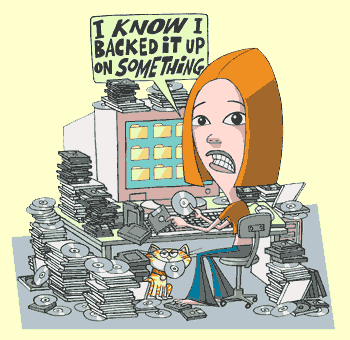 India
July 29, 2007 2:30am CST
I've got a lot of hard disk space consumed by games. I've kept one full drive for games and softwares. Another drive i use to keep all kind of movies and songs collection. I download a lot of stuff from the ineternet as well so that takes a lot of space as well, I'm sure you too download a lot. So what all things you store on your computer's hard disk ?
4 responses


• India
29 Jul 07
I can see it wouldn't be easy to store a whole lot of stuff on a 40 gb hdd. 40 gb just doesn't cut it if you are looking to play new released games these days, they are huge ranging from 4gb to 8gb each. Windows XP would be a better option for you to save disk space. I suggest you attach another hard disk so that would make like 80+40=120gb hdd for you or you can go for a bigger 160gb hdd if you like to store a lot of stuff and play high quality new released games as well.

• India
29 Jul 07
Well 80gb hard disk is pretty good enough considering that you don't play much of games so that much space is good enough for storing movies n music.

•
29 Jul 07
I store music, movies, web scripts all for my personal use. I normally download something i like from a range of internet download sites and keep them on my hard-drive. I try not to keep my PC too clogged up with crap and too much disk space used as it slows down the computer tremendously. There is nothing worse than a slow computer.

• India
29 Jul 07
Absolutely, i'm in favour of what you said. Too much disk space used slows down computer. I've got free space as well but i keep on storing more and more things everyday, i can manage that as i've got 1 gb RAM so that doesn't affect my PC's performance much. I like to keep my computer clean of all the crap though.

• India
29 Jul 07
It depends on your system configuration. I would prefer going for a 160 gb hdd rather than USB drives or even attach another hdd if anyone wants more space. USB drives are good if you wanna just store stuff and don't wanna access it too often but if you wanna use that stuff often then another hdd is the best. Most motherboards have 4 slots thats where you can attach another hard disk but i'm not sure that a single USB drive can hold data in terrabytes successfully.

• India
31 Jul 07
Well,I have games,songs&movies,softwares in separate drives.Important technical material in another drive.All drives in my hard disk drive consumed by these stuff.Hmm...... wanna burn some of them into DVD's and free off my disk space.Ofcourse i download lot of stuff from the net and save them in my PC.If i see any interesting topic i just save them in my PC.This hobby eating away most of my space in drive.Geez....i dont read them atleast once after i save the page.I just forget.heheh

• India
1 Aug 07
I don't like to save the pages too much, i just read them there online itself since webpages are updated regularly. I would like to burn on dvds some of the stuff i downloaded coz if you wanna download more and save more you will have to free disk space. But for now i have got some space in my hard disk so will look to burn dvds when there is no space left on my hdd.

• India
29 Jul 07
well that is a very stranage question and i think the most important things are i think i store them in my hdd. i have all sortg of things in my hdd like my soings my video songs and also i store a lot of movies, but one thing i do is store the setuos on my hdd and also maintain them in dvds so that at any point of time i dnt loose them and also when i have a crash i can install them quickly as doing them from dvds or cds will not only waste a lot of time but also a lot of problem like swapping cds and many other things. \

• India
29 Jul 07
Just asking as different people store different things so its interesting to see what consumes everyone's hard disk space. What i meant is some people store all things on hdd while some use cds and dvds and You use both LOL. Anyway its good as you won't lose any data if you have PC crashes. But i just keep my PC safe so that it doesn't crash due to any bugs and viruses.