Help me with interpreting this Pictures. Cool

Philippines
July 29, 2007 8:42am CST
www.monkeynoodle.org/comp/the_tree.pdf Help me in interpreting this pictures. It's about programming and I really need your feedbacks regarding this pictures. I have my own interpretation and I need to compare it to what you think it means. For me, this pictures summarizes the inefficient relay of data and how an inefficient program development team works.
3 responses

• Belgium
29 Jul 07
hi , i know quite a lot about programming myself ,and how it works , so maybe i can be of a little help to you. First of all , i think the meaning of the sketch is to be fun:p but i guess that you figured out yourself :d and like you said , its all about the people thinking in their own little world , not asking themselves if they would be right , they just do the job they think they are supposed to do. second , i think it shows the things a customer annoys , and how he sees the whole team is just not a team , but composed out of individuals. hope this helps a bit:) greetings

• Philippines
30 Jul 07
Yeah, we have some similar insights about this pictures. You may interpret the pictures as a positive thing but I'm seeing the pictures as a negative thing since this picture is about a programming team and a client. I think they're not coordinated that's why there where differences and major inefficiency in their work. An example would be the documentation, the documenter should have taken the necessary progress of the team but instead, as the picture suggested, the documenter did not even bother to document the program progress. You may see this pictures as a positive thing but I think negative is well suited for it. Well, we have similar view on the customer though, how he/she is billed like a roller coaster ride.

• India
29 Jul 07
This picture is funny. What I interpreted was that no one on board was wise enough to get the idea of what is needed. Even the customer could not describe what he/she really needed ! But what I couldn't get was the work of the programmer. What does it imply?

• Philippines
30 Jul 07
Thanks for your response, I'm not sure about the picture of the programmer part but I think it suggests that he/she came up with a program similar to that of what the client suggested but it was actually not working perfectly? I'm not really sure of it but we have different ways of interpreting it. I agree with what you said, the client does not even know what the program they want and needed that's why prototyping in this case will come in handy. So that constant revision of the program can be shown to the client. I need more insights about this, thanks!

• Laos
31 Jul 07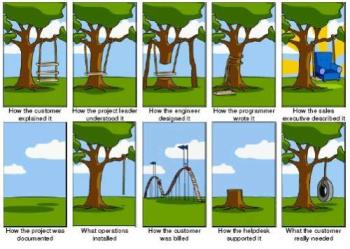 The first picture is hard for a lot of people to sit in one position or too many chef spoil food. The second one is hard when some one control us at the back. The third one is more convenient but too dangerous. The fourth one is no playing making Jack fool. The fifth one is great ideas. The six one is open view, no position. The seventh one is only a line. The eighth is more exciting, life can be up and down. The ninth is a place only sit but it is too hot when it is too sunny. The last picture is more convenience even is not nice position but can be free to be flexible.