Planning ahead - A boon or a bane???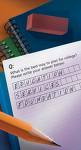 India
July 30, 2007 6:57am CST
I heard from many people that if you do something well planned before itself,then that work would finish smoothly and easily. is this right? I am asking this because whenever i plan something ahead itself,i donot finish that job only.for instance if i have to submit any assignment/there is a test next week,i plan before itself that atleast by 2-3 days before itself i have to finish the work.but i end up starting just before the submission date(last minute). So,how do i overcome this issue ? Please post in your suggestions/advice.I would try to implement it and maybe it might help others also.Thank you.
10 responses

• India
30 Jul 07
I also have a habit of working against a deadline, it is too late for me to change, but as a student you must learn from our mistakes and make a timetable every morning and check every night how far you were able to finish your tasks for that day, it is also a good idea to keep a diary then you can check how much have you really studied in a week.

• India
30 Jul 07
well i guess initially it would be tough for me but it was/is a good idea indeed.

• India
31 Jul 07
ya exactly i have the habit of doing this..!! I perfectly prepare the timetable with breaks and all sometimes i do strictly sometimes not..!! at the time of exams or if any important submissions i wont get that enthusiasm to do but when i just simply prepare na i will definately thats my weakness..!! so guys many of them has this type of sense i guess.. if any suggestions can boost us..!! thank you!

• India
31 Jul 07
Planning has never worked for me and never will work for which i have an experienced a lot whenever i have planned something and about to get to it i usually end up with no results so i left planning things around flow with the things around.I am also a tidy person i love my work finished in time or before so the things that important to me i try to finish it as quickly as possible so whenever i spare time i try to finish that work so that's my life i live it my way and nobody can bend it !!!! anyway thank you and take care!!:-)

• India
31 Jul 07
Dear Rakesh_07, Before doing any job you must plan. Planning off hand will not help. First you have to write down what are things you have to do for achiving your target. Then step by step you have study the points of planning. You will get more ideas. Again incorpate the new ideas into your planning Just type down all message of planning. Plan now what should be done first and hurdles involved. Same manner every point you finalise. First complete the plan by doing the easiest thing first. As soon as you complete it, you mark it as done. Go to next point, finish it. Like that once you plan it in proper manner you achieved 50% of the assignment. Because while planning itself you understood the whole assignment. When you start the assignment you know what is the next step and what should be done to overcome the problem.

• United States
31 Jul 07
I will be interested to know the outcome of this discussion, because this is exactly how I behave! I tell myself that I won't wait until the last minute, but I always do. Maybe we just perform better in these circumstances!

• Australia
31 Jul 07
yes, i do believe that planning in advance is very important... it requires a good time-management skills and self-discipline as well which has to be developed over time... these skills won't come out just like that... good luck...

• Australia
30 Jul 07
Many people say my second name is organised. I am very highly organised in every area of my life. Does this cause stress? Definintely not! People who know me also say I am the happiest and calmest person they know. Organisation and self discipline is the secret to a happy, contented and fulfilled way of life. Statistics in the business world show that only about 3% of people set goals and actually write them down. However, this 3% achieve more than 200 times that of the other 97%. For many years I have had written down my long term goals, and detailed steps (short term goals) with a timetable, towards achieving them. I monitor these constantly, checking progress. My first task every morning, after a little housekeeping, is to re-prioritise my to-do list for the day, taking into account my short and long term goals. My list changes every day, and often throughout the day, as new things crop up and need to be prioritised. In a practical sense, this means that if I need to have a project completed by a certain date, I have "steps" towards that detailed. I know I have to have certain things done by certain dates if I am to complete the project on time, without last minute panic. I believe you appreciate order. Someone who chooses an avatar like yours would have to do so. It would take very little to throw your avatar into confusion. I believe prioritising our time keeps things working smoothly and we are not caught unawares by the speed of time.


• United States
30 Jul 07
For most things I don't like to plan ahead because something will go wrong almost every time! It may put me under a bit of pressure, but I do better when I wait until almost the last minute. We could plan a trip to the Zoo and end up having to cancel, or we're sitting around waiting on friends we invited. As far as assignments go, you could always do a little at a time so that you won't have so much to do right before the deadline. I don't know. Don't take it from a person who needs to wait until the last minute. LOL

• India
30 Jul 07
Planning ahead can be a boon but we should always remember that Man proposes God disposes. Many a times I have planned for something only to see my castle in the air crash and evaporate, due to no fault of mine. One feels really depressed at times like these. But you have to learn to live through it and start all over again. But sometimes, I feel that its no use planning for something which you cant foresee (your future!) I don't know. I am confused. It's a point of constant fight between my husband and me. But I do believe that if you make arrangements for an umbrella (no matter how broken) you will not be left totally stranded in the rain.