Chinese eat baby to improve their helth!!!!!!!!!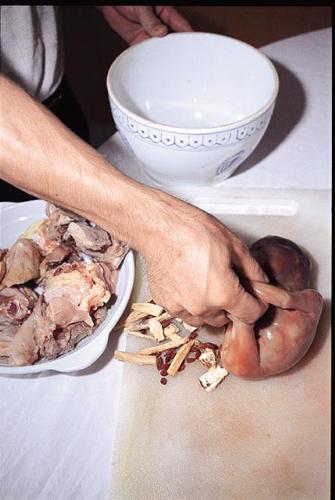 Vietnam
July 30, 2007 11:50am CST
Can you believe that some where in this modern world, people live like they are in the stone age. In Chinese, the rich eats baby, it's so shock. Check this URL for detail: http://888.rockin.net/propaganda-of-baby-eating/
3 responses

• China
31 Jul 07
what a bloody r.u.b.b.i.s.h! this kind of fabricated photos disseminated on the line for ages and everyone knew it was just a joke by some silly idiots.whatever url you provided for drawing myloters' attention proved nothing but a fact that you are spinning tall tales.i have got ton of the url regarding this wild talk but no one really take it seriously because it is something like you see a person jumping over mars. mate dont be naive, you gotta have a brain training.

• Vietnam
31 Jul 07
you don't believe it. But sorry, it's real. You know, you think that is a bloody rubbish??? The link i recommend is a English site but this link from Hong Kong, they are sure that Mainland Chinese EAT baby. This is the result of Chinese leader's policy. They do not allow breeding more than 1 child, so Chinese want to have a boy, not a girl. You can have some details from this URL: http://en.epochtimes.com/news/7-3-29/53482.html

• China
31 Jul 07
what a terioble thing!i don't believe that!at least,most chinese are very kind and friendly.maybe it's a rumor picture,who hates chinese.i don't know why the discussion starer put the picture on mylot.it will make chinese angery after seeing it!

• Vietnam
31 Jul 07
What i said is real. You don't believe it? It's up to you. You know, no one is complete. And the Chinese, too First, they said that this picture came from Taiwan. But when they find the truth, it come from China. And the price for 1 meal is 3000 CNY.