Has Anyone Been Camping Before .......... In The Lounge? LOL

United States
July 30, 2007 3:36pm CST
My son and I spent the whole weekend camping in the lounge. He received a safari tent and sleeping bag as a birthday gift from his Aunty and Uncle in Australia. It is sooo cool. While he was enjoying his sleep, I was stuck on the couch, pretending I was camping with him too. I had to turn the whole lounge room upside down just so I could fit his tent in the middle of it. We played games, read books, and pretended we were camping in the wild LOL It actually was a lot of fun. When I was little, as far as I knew, there was no such thing as a childrens play tent, so we used sheets and covered our lounge chairs with them, and slept underneath, pretending we were camping outside. So have you camped out in the lounge with your kids? How much fun did you have? If not, you should try it sometime :)
11 responses

• United States
30 Jul 07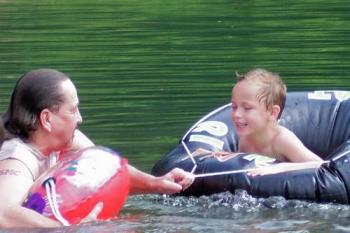 That sounds like so much fun...I remember as a kid...camping outdoors BUT we frequently made "tents" out of blankets and sheets...so thank you for that memory... We have a pop up tent camper and we frequently go camping by the river that we prefer to swim in...it is gorgeous there and I have encluded a photo for your viewing pleasure...LOL

• United States
30 Jul 07
Love the picture Tina. I hope one day we can take out son out to a real campsite and swim and canoe/kayak as well. I loved doing that at school camps.

• United States
30 Jul 07
When my son was about 10 we camped out in the basement..We didn't have a real tent, so we put a couple of blankets over the close line in the basement..We were sleeping on an air mattress..No sleep for me because my son was all over that mattress..I was bouncing all over the place....LOL...I told him never again..LOL

• United States
31 Jul 07
haha I can just imagine. When my son sleeps with me he is all over the place too and I have woken up with his feet in my face and even his head on my tummy LOL

• United States
31 Jul 07
Yes, it is quite funny...LOL...My 3 year old grandson will hit me in the face, and at the same time have his head in papa's back or vice versa..Not only do we have to put up with him, we have to put up with what he takes to bed with him..rocks, marbles, balloons, cards, legos, cars, dori, nemo, lots of pointy stuff, stuffed animals, and the list goes on..When he falls asleep I take them off the bed..God forbid, he wakes up and doesn't see them..My life is over..LOL

• United States
31 Jul 07
haha my son has lots of stuff toys small and big and when he puts them in our bed there is no room for my husband or I to sleep.


• Turkmenistan
31 Jul 07
When I was young, we did the same thing with the sheets and blankets. I never thought about camping with my nieces and nephews, but I six feet tall, I am sure I would have made the perfect tent pole, LOL. I did enjoy watching then camp out in their room under their sheets though.

• United States
31 Jul 07
haha
@
tent pole. Six feet tall aye, you are tall, I am only 5'9 and my hubby is 6'1. Great height to be playing basketball thats for sure. I hope to take my son camping for real one day in the near future, I'm sure he would love that!

• Turkmenistan
31 Jul 07
He will love it. Boys like to rough it. It is us girls, like me, that sometimes have a problem with it. I am not camping material. I need all the modern conviences of home. Don't put me out in the woods with the bears or you will have a giant size problem on your hands and I am not speaking of the bears either.

• United States
31 Jul 07
haha totally understand. I have been camping when I was in school and actually enjoyed it. Not so much the activities but being able to hang out with my friends, now that was cool.

• United States
31 Jul 07
Awww thats so cute and sounds like fun.I've never done that with mine.Sunday my kids asked could they go camping next Summer.SO thats a Yes.I am ready and will be making plans.take care

• United States
31 Jul 07
It was a lot of fun and he wants to do it again tonight but I said no because Daddy is coming home tommorrow so I want the house to be nice and tidy before he gets home YAY. Taking my son to a realy camp would be so cool. You take care too!


• United States
31 Jul 07
haha that must of been fun. I might have to try that with my son next time.

• United States
31 Jul 07

I've been camping before but never indoors! It does sound like fun and I'm sure your son enjoyed it. My apartment is way to small to try it.

• United States
31 Jul 07
It was a lot of fun and tiring at the same time. I hope to take him to a real camp one day in the near future.

• United States
31 Jul 07
Awwww...you're a good mama!:) I used to set up chairs and drape blankets over them when I was litle. That was as far as my camping experiences ever went. It sounds like you went all out for his camping trip.

• United States
31 Jul 07
Thanks flight84. It was a lot of fun and we were able to have munchies too LOL which is usually not the norm. I hope to take him on a real camping trip one day soon.

• Orangeville, Ontario
31 Jul 07
Our kids have set up the tent in the basement rec room and the living room. They love camping. It's better than the real camping where you have to use dirty showers and washrooms. Our tent is now damaged and my eldest wants me to buy a new one, even though the camping will remain in our backyard. Things just don't last very long anymore. I'm sure you and your son had some fun. My husband and the kids used to have pyjama picnics in the diningroom before we had any diningroom furniture. That's when the kids were little. Now they are at an age where everything they want to do costs a good deal of money. Enjoy the cheap fun with the little ones before they get old enough to realize the better stuff costs a lot of money. They will have fond memories though, especially if you take pictures.

• United States
31 Jul 07
I know what you mean, even looking at this tent and sleeping bag it would of cost an arm and a leg to buy it. Things are sure not cheap these days. I hope to take him on a realy camping trip though, that would be fun.

• Singapore
31 Jul 07
My nephews and nieces when they get together, they use exercsie mats, mattress and bedsheets to build a "camping tent" and the four of them would squeeze into the tent, one moment pretending to sleep and the next moment it was morning. My role in it? To hold the tent so that it will not fall off. lol. I do not remember having such luxuries when I was young. Now my mother (their grandmother) allows them to wreck the mattress and bedsheets. So unfair.

• United States
31 Jul 07
hahaha to hold the tent, awwww that's not fair. i know what you mean by luxuries, we never had that when we were young. It's amazing what kids do get nowadays and they are not cheap either.

• Northern Mariana Islands
30 Jul 07
Hello Maddysmom! My son camps sometimes in his room…lol.. He has a bunk bed and on the top bunk he has his tent all set up and ready. He would only play in the tent though, I actually set it up so that he can sleep in his own room but he still sleeps in my room. He plays in the camp most of the time but that's about it…lol..

• United States
30 Jul 07
My son still sleeps in our room too aargh and I'm hoping his tent might make him want to sleep in his own bed. He promised his daddy that when he turned 5 that he will sleep in his own room so now that he is five, we have moved from our room to the lounge, so you can say we are getting there LOL

• Philippines
1 Aug 07
My kids and i have been camping inside the bedroom. The only tools we use to make our tent are bedsheets. We would hang them on the wall and make them appear like tents. It was fun. I feel like I am bad to my childhood days where my mom and I do the same with our bedsheets.