What u gonna do if you feeling happy?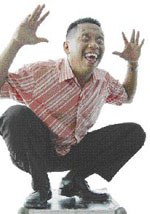 Indonesia
4 responses

• Australia
31 Jul 07
haha lol! and smile a lot. What I usually do is go shopping and dine out with my friends or my family. Sometimes, I would visit my neighbors and ask them how they are...then eventually tell them how happy I am or if they wanted to hang out with me. I would also phone my closest friends. I am the nicest person in the world when I am happy lol.

• India
31 Jul 07
when i feel really good i will go out with my friends..sometime gofor a movie.i love to be happy alltime but easily i can feel sad.i dont know why.but i love to hang out with my friends ,my family and my cousins!also if there is a family gettogether i felt so happy!

• Canada
31 Jul 07
When I'm feeling happy I'm usually that way because I am doing something I enjoy, or I have just received some good news. I'm feeling happy because after I am finished here on MyLot I am going to walk across the street to the cafe and have a really good cup of coffee.