Anyone here who played musical instrument now and before?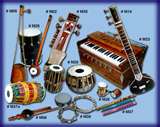 Philippines
9 responses

• Switzerland
31 Jul 07
I used to play the organ and wish to learn to play the piano in the near future.

• United States
31 Jul 07
When I was a small lad I played the accordian. I even got to play a concert with the Detroit Orchestra many moons ago. HAPPY POSTINGS FROM GRANDPA BOB !!~



• Philippines
1 Aug 07
when i was young, i used to play the piano at church..i lean piano lessons from the church and i was once playing the organ during the mass..but now i don't do that anymore and i don't know it if can still play it.

• United States
31 Jul 07
I play the flute. I dabble at the piano. And I wish, I wish, I wish I could play the guitar. I will probably take lessons some day. I love guitar music.

• Canada
31 Jul 07
I used to play the guitar before, now I do not play as much because i am mostly on the internet LOL.

• India
31 Jul 07
In my college life I was a guitarist. I have also done some certificate course on it. And I was very fond of this guitar and that's why favorite in class. In any small or big function we have a small group in class who performed cultural functions and I played the guitar. After leaving college and in service I rare get time to have it but still now in weekends sometimes I spend an hour or two with that.