Help with Hair Color

United States
August 2, 2007 2:56am CST
Ok, here is the thing. i want a red, but not just ANY red. i want a deep, vibrant red. i don't want any orange tones in it. i want it to be a "cool" toned red. It needs to last well, be pretty gentle on hair, and *hopefuly* not have a lot of harsh fumes. i have tried Punky Colors, which last pretty well, but i can't find the right color. The first one was WAY too pink, the next one was WAY too orange. The last one was good when stacked directly on top of the one that was too orange, but then i went and re-colored because i had roots and it was a little faded and it became far too pink as well. Now i just re-touched with Garnier 100% color. It's a little more orange than i want now and it is stacked on the one that is too pink, so i know next time it will be FAR too orange. If any of you know of a good color line that has the red i am describing that i want, PLEASE let me know!
5 responses

• United States
6 Aug 07
well this is what i would do.i have been a hair dresser for over 15 years now,so i am gonna suggest my best advice since i dont know what your hair looks like,first of all i would strip out some of the color,and you can use prell shampoo,do this about 3 or 4 times,then i would either put a flame red which you can use clairol,and its number 33,and mix it with 20 volume peroxide,and leave it on for 20 minutes.i would not use garnier,this products causes hair to be very tense and either very orange or very pink.or you can strip it out more than 4 times,shampoo your hair for at least a week with the prell,then put a nice base color which would be light brown by clairol,and then put the flame color on top,so you will have a even color on your hair,and make sure you comb thru the color on your whole head evenly.you can buy mrs.clairol hair color at a sallys beauty supply store,or any beauty store.you have to get some of the orange and pink out of your hair first.if you have any more questions,feel free to ask.

• United States
10 Aug 07
See, i don't want all my hair red (though that is what my best friend wants). i want to keep my black, i just want the front (devilocks) red. i have already stripped out the black and had it blue for awhile, then Jason (best friend) convinced me to go red, which i thought was fine. So i washed out as much of the blue as i could and started dying red. i have just had quite the fiasco finding the RIGHT red. i recently bought some prosessional dye from this shop. Supposedly they were not supposed to sell it to anyone other than professionals, but since i am in ther eall the time, they sold it to me. It was SUPPOSED to be the color i wanted (i used a 20 lift to help get some of the previous dye jobs out) but it turned out VERY orange. If that were the color i was going for, it would look great...but that is not what i want. Also, tha dye and lift damaged my hair terribly i had to go buy a rather expensive hair restorer to help withthe damage. That did NOT make me happy. i was told my a few people to try Inkworks Paul Mitchell, but i don't know if it has the red i want. Also, i do not know how long it lasts or if the sa,lon will even sell it to me. i found it on Ebay, but thy don'thave color swatches to actually see the color. They just have the names, which makes me a bit leery. i found a dye called Special Effects that had the perfect color (blood red), but i was told it fades out (gradually) and needs to be re-done about every 2 weeks. i am thinking about trying it once my hair has restored a bit...though i am really not too sure i want to spend that kind of money to have to re-dye it every 2 weeks...


• United States
16 Aug 07
Hmm....i checked it out and it had a pretty color, but it was pretty expensive and it only last 4 to 6 washes...i think i will just end up getting the SPecial Effects Hair Color. Thanks anyway!

• United States
14 Aug 07
the blood red one looks like the best choice for you. im glad that you were able to find it online so you dont have to go all the way back to the mall just to get it. :)

• United States
14 Aug 07
It was less money online, too...though i am not sure what shipping is on it. As soon as my hair STARTS to show signs of being able to handle dye again, i am going to order it. i agree that the blood red will be best. The other one was pretty, too...but i think it would end up too bright. Just think! Next time you visit, i will probably have better hair color!


• United States
10 Aug 07
hah! You should see my hair right now...WAY too orange. i mean, it looks good, but it's not the color i want. i still have the black hair everywhere but the front. i found some dye that just might be rigth, but my hair is so effed up right now that i don't want to do anythign else with it for awhile. i had to buy this really expensive hair restorer because i over-pricessed my hair. That did NOT make me happy...

• Canada
6 Aug 07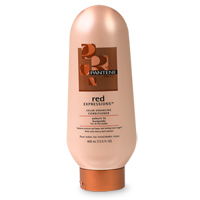 Well I don't color my hair, but I used to. I found that the color stayed alot better if I used one of those color shampoos, that help revive the dye each time you wash your hair. Pantene Pro-V makes one now, I attached a picture of it below. I can think of the brand.....it's either clairol or garnier that has a line of just red hair dyes out. You coudl also trying buying 2 of those chunking kits and just do your whole head. You know what I mean right? They come in red and blond, and come with the stuff to bleach the hair you are going to dye white first so the dye takes good.

• United States
10 Aug 07
i used to use color shampoos and conditioners when i used to just dye my entire hair black, but now that the front is colored and the rest is blac, it doesn't make too much sense to use a color shampoo for one color and not the other and i really don't have the time to use 2 different shampoos. i don't want chuks of color throughout my hair. i just want the front red. The black dye i use is nearly IMPOSSIBLE to bleach out! i had to bleach it 4 times before it was light enough to put color in and by that time it was already fairly damaged. :(