Child Labor.... What is your opinion on this matter?

Philippines
August 4, 2007 10:50am CST
Watching news as i am on the internet, one news caught my attention... it caused me to pause from typing in mylot and watch it. Children between ages 8yrs - 15 years old boys working as contruction helpers (carrying heavy loads on their shoulder transferring from one place to another). And they also showed the parents, at home waiting for the earnings of the poor kids. A lot of organizations are working hard to help these children, to get them out of the streets or to save them from child labor. The government are funding different actions to help these children from getting abused. I feel that there is a need to increase ways in how we can help resolve this poverty and child labor. Children are being robbed from their childhood life. At a young age their small bodies are abused already by work. Do share your thughs? Tnx
7 responses

•
5 Aug 07
Children in Africa are put to work as soon as they can walk - well almost! The girls help around the house carrying water and wood, etc. and the boys are out herding the cattle and goats. I got up at 5am summer and winter to do a paper round before I went to school. I was pleased to earn the money and thankful to get the job. When you are poor you work hard and long. It is the same the world over. It would do the fat kids of the world a power of good to get off their fat ars*s and do some physical work.

• Maribor, Slovenia
5 Aug 07
Helping out is one thing, earing some pocket money of your own is yet another, but to be sent out to do an adult's job to keep,the family is tragic and wrong.

•
5 Aug 07
I think we should all take what we see on TV with a pinch of salt. Much better to go to these countries and see for yourself. I think you will see ALL members of a family working, children doing children jobs and also going to school, and adults doing adult jobs.

• Maribor, Slovenia
6 Aug 07
Not entirely true - there are lots of places where the adults cannot get work and the children work instead. Why should children in one part of the world not be able to get an education like their western counterparts? Why can't they have a proper childhood too for that matter?


• India
26 Sep 07
What you say is right. Parents are primarily responsible for child labour. Many parents sit at home and send their children to work. Many parents are forced to send their children to work as their income does meet the expenses. Their is a law against employing child labour but their is no law against parents forcing their children to work. Govt should enact such a law.


• United States
5 Aug 07
I agree we need to do something to stop this. This is very sad and children should be allowed to enjoy their childhood. I understand that in some countries children need to work to help out, but some of these poor kids are just being abused, and I'm not even sure what we could do to enforce any laws. I know there are organizations, but what progress they have made, I'm not sure.

• Indonesia
5 Aug 07
Actually I don't agree with child labour but we are life in different situation so sometimes child work to help their family to survive in the world. best regards

• Maribor, Slovenia
4 Aug 07
Child labour is an awful thing but I think it is perpetuated for several reasons. First there is a market for cheap goods so until peole are persuaded to pay a decent price for things. then they will always be amde in poor conditions and the worlers will be paid poorly. Second, poor countries must be given help to ensure that all children up to a certain age get a FREE education. If you have nothing and the choice is sending your child to work or paying for them to be educated then the choice is obvious.

• Philippines
4 Aug 07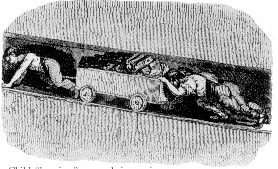 child labor is cheap labor. Some companies employ the aid of children since it comes cheap. companies who are doing this should be sanctioned. Parents who consent on letting their children work instead of educating them or letting them go to school are disgusting and should not be followed. although lots of organizations are aiming to stop child labor, it is still very depressing to know that some countries still practice this act. children should be given love, should be given time to play with other kids and be educated, not working for their parents. Parents should provide for their kids, not kids for their parents. How can we help in stopping this kind of atrocity that is happening around us. One reason parents allow their kids to work is that they are suffering from poverty. but i think these parents are just lazy. If we can teach these parents some kind of livelihood programs so that they could earn for themselves then we could somehow minimize child labor practices in some countries. However our awareness and the world's awareness to child labor is a major step to stopping or eliminating these events if not to completely eradicate child labor. I could not imagine my child working for me, working so as to provide me with basic necessities. So who does the greater evil? the company that employed children? or the parent who allowed their children to work?