Lammas Parade and Events...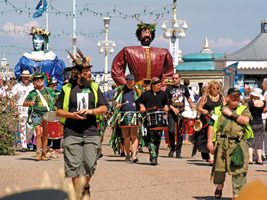 August 4, 2007 10:15pm CST
Today, in Eastbourne, on East Sussex's coast, an Annual Lammas Parade was held, culminating in a Pagan Craft Fayre, Tarot Readings, Storytelling, Face Painting plus Lammas Ale and Bar, Morris Dancing and Folk Groups at the Wintergarden. Pagans dress up for the parade, and carry two, giant, effagies with them, which represent the Goddess and God, Herne and Andred... it's getting to be quite an event. Then, it's down to the Wintergarden to enjoy the rest of the festivities for the day. As a spectator, you can either dress up, or go as you are, but it's good fun. Everyone joins in... dancers, drummers, musicians, Eastbourne Giants, their guests, and members of the public wearing costume or flowered-circlets, or just plain old jeans and Lammas T-shirts. I would have gone down but for having made other arrangements today. Never mind... there's always next year.
7 responses

• United States
5 Aug 07
This is really great to hear...I take it there are a lot of pagans in your area and so it's not unusual to celebrate the different sabbats this way where you are....Can't imagine that happening here in the big apple of NY, not even in the Greenwich Village area which is a lot more relaxed in viewpoints..Sorry you missed it this year...like you said there's always next year

•
5 Aug 07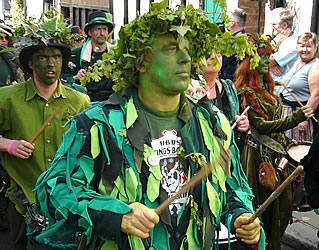 Yes, there are a lot of pagans in Sussex, and indeed most of England. They are more widely accepted these days... sometimes other traditions join in with them, and thoroughly enjoy themselves. It's just a celebration after all, like May Day and Lammas. There are, of course, still those who scorn us, but they're beginning to realise that witches are not all bad! lol. As you can see from my response to Perspectives, there is a May Day celebration of Jack In The Green, at Hastings, just along the coast from Eastbourne. Then we have the Druids at Stonehenge. Oh, I could go on, but I could become boring. lol. Brightest Blessings.

• United States
5 Aug 07
Bore me, bore me--I would love to hear more...can't think how lucky you are then--In my apartment building people know I'm a witch...and it scares the heck out of them...When I mentioned this to a friend of mine about one neighbor in particular she jokingly said that maybe the woman should throw water at me to see if I melt like the wicked witch of the west in Wizard of Oz...LOL

•
5 Aug 07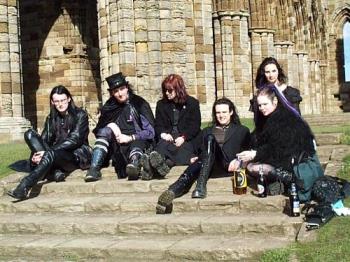 Oh dear... people do tend to overreact on stuff that they've "heard through the grapevine" and "seen in the movies" don't they? I feel sorry for some of them being so uneducated... if only they stopped to learn, or knew the truth about our path in life... but then, they'll never stop long enough to listen. Sobeit... I will carry on along my path, happy in the knowledge that I have far much more wisdom and understanding, Pye. I like the water joke, ha ha ha. I'd take an umbrella out with you though... this woman sounds the type to take it to heart!:) I suppose the difference is, this is all fundraising for the RNLI for starters, and another thing is, the rural parts of England have more pagans than anything. lol. They are not afraid to make themselves known now and others are more able to understand, and indeed, interested in finding out about Sabbats and other rituals and celebrations. Another pic??? Ok... here ya go. This is a Gothic Weekend at Whitby, in North Yorkshire. Whitby gave birth to the setting for a Bram Stoker Dracula novel and is riddled in folklore about Vikings, smugglers and witches. They have a Spring Weekend, in March and a Samhain Weekend in October, with great celebrations. :)



•
5 Aug 07
It's kind of similar, I suppose, Lakota but it's a Pagan Festival in honour of the Sun God and the Goddess in thanks for the first harvest. In fact, the Goddess used in this parade, and in the picture, is Arden, Goddess of the Weald, (the area where I live). Brightest Blessings.

• United States
5 Aug 07
I guess I need to learn more about the pegan era. Sun god was also worshiped by the Indians like the Incas and aztec in south america . DO you think it is all related somehow? Dont ask me how just wondering and it is so neat to have these kinds a festivals wish sometimes over here we would have more. In Wisconcin they have different fests every weekend in the summer but dont think they are for really any thing that they need to play in the summer for the winters are for people that get snowed in

•
6 Aug 07
All Native Americans and Native Canadians are considered pagan, Lakota and in the main, their beliefs are quite similar to other pagans. They have certain birds and animals that they honour as well, I think you'll find, as well as the Sun and Moon, Winds, etc. We honour the Sun, Moon and Elements, as well as the Spirit and the Earth. We do have token animals also, and birds, like the Owl, Raven and Crow. The Natives have their Medicine Man also, which is equivalent, I guess, to the Wise Woman of the Village who healed people and acted as a Midwife, hence being labelled a "Witch". So, in a sense, you're right, and we're quite similar. I think you can find things in all religions which are similar... many would disagree I'm sure, but these are single-minded people, who don't understand, nor want to understand the beliefs of others, because they think theirs is the only one. Brightest Blessings my friend, in love and light. xx


• Canada
5 Aug 07
Hello again...thank your for the inspiring addition you made to the 'wishes' discussion. I don't know how I missed it last week...guess it was the way I was feeling...but I did respond to it this evening. Anyway...just noticed this post and I am grateful that you add so many interesting sharings from your home area. It sounds like a delightful experience. In the city we used to live in (Winnipeg, Manitoba) there are somtimes psychic fairs that I like to go to when we get back to our old turf...but nothing as elaborate as your Lammas Parade. Good to know what goes on 'across the pond.' Intersting post again.

•
5 Aug 07
Yes, I saw your response of this evening. Thank you for that, my friend. It might be of interest to you then that Hastings, just along the coast from Eastbourne also houses a few pagan festivals, the best known being the Jack in the Green festival, in May. Jack is a winter form of the traditional character known as the Green Man, who represents the spirit of the forests. He is covered in twigs and leaves, with a crown on his head and a black mask on his face. He leads the procession, which starts in the Old Town of Hastings. We have psychic fairs in Hove Town Hall, and Bognor, I think the other one is. How coincidental! :) Naturally, I love all these celebrations and the folk singing and craft fayres. :)


•
6 Aug 07
Yes, it creates a great atmosphere and everybody has such a lot of fun! We have our serious rituals, followed by celebrations such as this. It is a pity I missed it but the kids are going away on holiday next Friday, so it was my last chance to spend any real time with them before they go. There's always next year... Brightest Blessings. xxx

•
5 Aug 07
sounds as if it would have ben good fun too , I think you had a great day anyway pal . and as you say you will have next year , If you go fancy dress then that would be nice to see a picture of too , I have some of kayleighs 18th , I will email some to you xxxx

•
6 Aug 07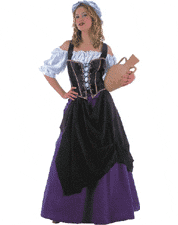 Yes, I agree, it would have been nice, but the kids are off on holiday next Friday, so yesterday was my last chance to see them before they went. I did enjoy the day very much, as did they, so everybody's happy. If I wear traditional dress next year, it will probably be of the peasant type... are you sure you want to see me in that? ha ha ha. Something like this would probably be my choice! Brightest Blessings. xxx

• United States
5 Aug 07
My dear friend you must MUST take some videos of some of the wonderful places and events that you see. I am so envious that you are so close to these things. I live in the country in a very small town and our biggest event is Waterfest,4th of July or maybe a car show. Is there a chanse that you might start taking videos and put them on you tube so we can see them....please..please So often I wish I was with you Sweets. xoxoxoxo R

•
5 Aug 07
Raydene... you know I would, but I have no idea how! lol. I'm not usually slow in picking things up but that just beats me... I haven't really had time to look into it, I suppose. Don't laugh... I took a video of gissi on my digicam when he was rolling in the patchouli oil wrapper, and when I tried to send it to Gabs, so she could publish on YouTube... it was too BIG and just wouldn't go. If I could publish it on YouTube, it would probably be the simpler thing to do. I'll have a try, my friend. Brightest Blessings. xx

• Etowah, Tennessee
5 Aug 07
That sounds like it was quite an event! I hope you get to go next year! I was driving down the road one day and lamma ran across the road. It was a strange sight! The next day as I was flipping around radio stations the DJ on one said stay tuned for the strangest lost pet ever! I knew what he was going to say! I called the people. The poor thing was pregnant and having a bad time. She got spooked and ran off. I never did hear if they found her or not, but I told her where she had been the evening before.

•
5 Aug 07
It is a very good and well-attended event, Tammy. I like the parade, the folk music and the Morris dancing but most of all, I love the Craft Fayre. I think you're talking about a Llama. Quite a distressing time for the poor thing, trying to protect its unborn and itself, and getting into such a desperate state. At least, they saved it from further trauma. Brightest Blessings my friend.