My son is doing GREAT with potty training now!

United States
August 5, 2007 9:15am CST
Ok, so I have been letting him run around the house without a diaper, pull up, or underwear for about a month or so now. He was doing ok with that... weve had our accidents.. weve had our ups and downs, but none the less, hes learning. Now,the last week ive decided to just let him go with some pull ups.. just to see what would happen. Throughout the week i noticed that he would still go on the potty... with some accidents, but he'd still go. And there were a few times he would go and have a dry pull up! So, Friday afternoon/evening I decided to let him go with a pair of "big boy underwear". And wouldnt you know... he didnt have a single accident! So I let him go with one all day saturday! Again... no accidents... until his grammy and pappy came over and took him outside in the yard (I forgot to put a pull up on him before he went outside... was in the middle of making dinner lol) He had an accident at some point while he was outside... but I expect that. The good news is... he went the entire day from the time he woke up till the time he went outside with NO ACCIDENTS! He is 28 months old... and getting too big for me! lol. Hes also learned how to drink from a regular cup instead a sippy cup this week. Now, I make sure I keep the cup up on my desk so there are no accidents (I have a 10 month old that is learning to walk lol) This week has been so productive for him. Im still in shock! lol I just had to share with everyone!
2 responses

• Philippines
5 Aug 07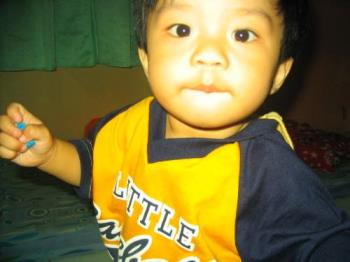 My son is now 1 year and 2 months old, so I guess I still have to wait few more months before I can start with the potty training right? I'm really excited for that time to come because that means he'll be older that time and won't be using diapers no more! Time flies so fast and my little baby grows so fast. He's walking now and soon will be big enough not to need me, am I being melodramtic hehehe. But I guess we'll just have to enjoy their youth as much as we can!

• United States
5 Aug 07
Ya know, My parents started potty training us at 9 months, I started potty training my son at around your sons age. It all depends on the child. It took m y son a couple months before he actually peed for the first time in the potty, but he always wanted to sit on the potty. You could buy a potty chair and just let it out in the living room to see how he responds to it. you can also start letting him go to the bathroom with you when you go. weve always let our kids go in the bathroom with us... i actually even leave the bathroom door open a lot of the time so they can come and go as they please! If he shows interest in it... dont hold him back from it. thats my motto. The way I look at it, this is the age that they absorb SO much. That they LEARN so much! It might take some time (and im sure it will!) but he will get it! LOL and talk about being mellodramatic.... Just a month ago I was talkign to my grandmother about potty training my son... saying hes going to be in diapers by the time he goes to college! HEHE. It was a bad day for me lmfao. If you feel he is ready and interested, go ahead and get one. Your husband might be like mine and say its rediculous and hes too little yet... but you are mom, you know what your child is like, you will know when hes interested enough to try. Dad (in most cases) is gone half the day at work... mommies have that "maternal instinct" that dads dont. Trust your gut!

• Singapore
6 Aug 07
My son is 27 months now and although he knows when he pees and poos, he does not seem interested in going to the potty to do it. He prefers to do it squatting down into his diapers and will inform me when he's done. I think my problem is that I'm not consistent with the training as I'm afraid that he may soil my fabric sofa if I don't put diapers on him. Well, I think I'd better be more consistent as I hope that he will be potty trained soon.

• United States
6 Aug 07
Yeah, ive learned from my mistake... Now when I let my son go without a diaper... I WILL NOT let him on the furniture anymore. He likes to take naps on the couch, so when I see him get up on the couch and lay down... then I put a pull up on him. I think potty training is one of the hardest parts of parenting... atleast so far anyway lol.