How do u know if a guy likes u?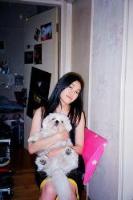 Hong Kong
October 26, 2006 4:20am CST
7 responses



• Hong Kong
12 Dec 06
that's right.I'm gonna take it slow and spend some time w/ him to get to know him more.Thanks for your response.

• India
12 Dec 06
In love and in war many mistakes take place.Love should be resiprocating.Careful with the guys who are after your money. Also he should be serious about his works.He should not be neglecting his studies or job.He should know to manage his time.True love should be felt by actions than by words.

• Hong Kong
12 Dec 06
wow,your words are so powerful,so philosophical.but I understand what u mean,and I think u are right.

• Italy
11 Dec 06
you suspect that he loves you, but are not sure? Here are clues to prove that he indeed loves you... You catch him staring at your eyes. The eyes of men most often reflect what's welling in their heart. When despite all the women around, it is you he's staring at, this means that his affection for you runs deep. He stands right next to you in public. Men who are uncertain about their feelings will either position themeselves several feet behind you or be out in front and lead the way - two safety positions that keep his wandering eyes hidden. But if he's in love, he'll stand right next to you.He enjoys surprising and pleasing you. It might be with flowers, a card or just a silly present. He takes initiative in planning activities he knows you enjoy: a night at the theater, a picnic, a movie or even dancing (for some guys, that's a big sacrifice).He doesn't play games or make excuses.He doesn't wait a week to call, and when he says he'll call, he does indeed. Instead of keeping you guessing, he wants you to know how he feels - and he says he cares.He remembers your birthday, and he does things with you during prime sports time.He doesn't mind if you pick up his phone. If he lets you answer the phone, it means there's absolutely nothing he wants to hide from you.He offers to help. He'll fix your sprinkler heads, check the oil in your car, repair a leaking toilet or take out the garbage.He asks about your family and he wants you to meet his family and friends, and then he includes you in activities and holidays with them. This is a big thing! A man will not introduce his new girlfriend to the most important people in his life unless she, too, is very important to him. ;)

• Hong Kong
12 Dec 06
That's helpful info,he's a quiet guy,and kinda boring in a good way,he's the first guy I have feeling for after my last relationship 4 months ago.I just wanna take it slow,and don't screw things up again. Anyway,Thanks for your helpful tips.I think I know who deserves Best Response and a plus. YOU .

• United States
11 Dec 06

well theer are so amny ways to know that but it firstly depends on the chatacter of the guy, if he is a talkative fellow or if he is a quite person. it will be so obvious in his words and actions if he is quite an extrovert.

• Hong Kong
11 Dec 06
Well,he's a quiet guy,doesn't talk much,that's why it's so hard to tell.