This is where I live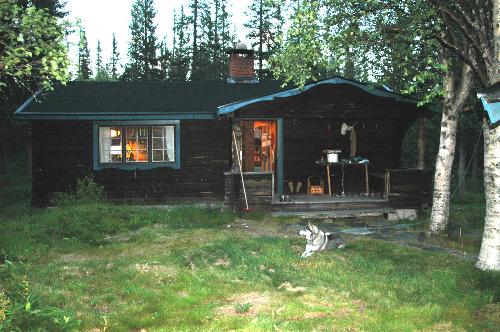 Sweden
August 7, 2007 3:03pm CST
I just whant to showe you where I live the cracy Swede who live out in the forest up in the Swedish mountin, its not so good the photo but I pot it upp anyway I will take some nicer one some day this week when its sunny and nice.
8 responses

• United States
8 Aug 07
Matte, I would love to live there. Your home is very nice. It looks cozy and inviting. I grew up in a log cabin in the woods..I enjoy the woods and want to move out in the country again some day..Thank you for sharing..

• United States
8 Aug 07
I hope so too! I don't need a big home. I would like to have enough land to have more dogs. I will have to find a picture of the home I grew up in.

• Philippines
9 Aug 07
It looks okey just a little beautification needed...but do you think it's a safe place?...I find it so quiet...if you have neighbors then it would be great then...hehehe


• Sweden
9 Aug 07
Thank you flight. You can bee right what its looks like I hawe never thought about it like that. My dog is an skandinavien Hunting dog You hunt elk and bear with it it looks a little bit as an Alskan Malamute, the only name I knowe of these kind of dog is Jamthund and thats the Swedish name I fond one name just nowe Swedish elkhound.

• New Zealand
8 Aug 07
Hi there Matte. That cabin of yours is truly peaceful looking, being situated in the forest... And your dog looks right at home too... Very cozy and warm... Thanks for sharing, have a great day...

• Malaysia
8 Aug 07
Hello matte5, Do you want to know something? I really dream of traveling to Sweden one day. Right now, I just don' t have the time and the opportunity to do so. Hopefully, I will be able to travel and visit your country one day. As for the photo, whatever you took, for me it is just awesome *smile*

• Philippines
7 Aug 07
I am impressed. Your place looks so meek and peaceful. I love the way it looks. It was a great photo anyway. The shot was very nice. I could tell because I have a deep passion in photography. And i also appreciate people who love taking shots of things that would appear very artistic on photos.

• Sweden
7 Aug 07
Thank you for the coments of my house and the picture, I hawe make some small adjustment in photo shop only the brightnes and charpness I took it without flash and it was a little bit dark, I try to catch things the way I see them when I take picture but that not soo easy but if is fun to see the result of it.


• United States
8 Aug 07
thanks for sharing your home,it looks very cozy and very welcoming.i heard sweden is very pretty,and a great place to visit.maybe one day i will visit sweden.mountains are so beautiful,thanks for sharing.