Back to school bags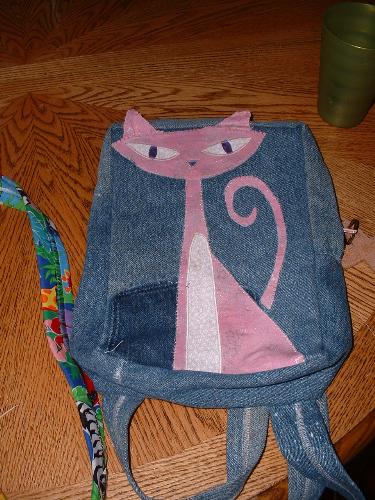 United States
August 8, 2007 10:44am CST
Hi all! I just wanted to share with you a project that I have finished for my kids. I was looking for a reason to use some of my hubby's old blue jeans. I found this pattern http://www.mccallpattern.com/item/M5341.htm?tab=accessories&page=1 and fell in love with it! Who can blame me? They are just too cute!LOL! I thought I would try to make some more, and see if I could sell them. Anyone have a guess what I should charge? The only real expense is time (about 2 hours labor) and the zipper (1.49). Everything else is scraps or recycled jeans. The finished size is 7"x11"x3". It can hold a standard size notebook and folders. I'm not looking to sell them just yet, but I would be curious to know what someone would be willing to pay for them (if anything!) I just can't stand paying $30 for a bookbag this year for my kids to have it TOO big, and have it fall apart before Christmas. Thanks!
4 responses


• United States
8 Aug 07
Thank you venshida! I think I will try to make a few extra up and see what I can sell them for. Now is the time, as it's back to school shopping. :)

• United States
8 Aug 07
Your time is worth at least ten dollars an hour so maybe 20 or 25 dollars....If you make them more durable than the ones that you by for 30 dollars it seems to me you would do a good business.

• United States
8 Aug 07
Thank you sumofalltears! I just needed someone to tell me what I'm worth. LOL! My kids don't take a lot of heavy things to and from school, so they should hold up pretty well.

• United States
21 Nov 11
that is an awefully cute litte bag for a child to take to school and use as a book bag backpacks are just so expensive now days and making one is cheaper and fun plus when you make your own bag you are able to personalize it the way you want store bought book bags are also very poorly made and often only last me about 2 semisters before i have to replace them because they get so many holes in the bottom and the straps rip off so easily when you make your own backpacks you could make sure the seams are reenforced and you might could add extra fabric to the bottom of the bag to make it more durable

• United States
17 Aug 07
Super, super cute! I'm also voting for the $20 range. Good luck to you!