Snape --- A Hero

China
August 9, 2007 8:08am CST
Aftering finishing reading «Harry Potter and the Deathly Hollows»,I consider Severus Snape as a hero.Love Lily who don't love him for his whole life.Harry is always under his protection but always hates him until Snape's death.Snape plays an heroic and sorrowful role.
10 responses

• United States
10 Aug 07
I think Snape is more of an anti-hero, personally. He is very self-serving. Yes, he protects Harry, but only because he loved Lily. JKR has said that Lily loved him as a friend, and that if he hadn't been involved in the Dark Arts, her love may very well have turned romantic. His own actions damned him in that regard. However, he did indeed protect Harry and others for years without them knowing, and without taking any credit for it. A man with evil leanings, who redeemed himself very well in the end. That said, Snape is my favorite character. I think he was extemely well written.

• Philippines
12 Aug 07
I agree with you 100%. Even from the first book I've always felt that there is more to Snape than meets the eye. I've always thought of him as a deep person with very intense feelings that hardly do him justice. I think he is JKR's best written character - mysterious, intriguing, easily hated, yet so very human. And I do understand now why Dumbledore trusted him all the way..

• India
5 Jan 08
well lemme start of this way .....rowling is extremely talented and harry potter books are awesome.....however i think rowling kinda underperformed in book 7.......anyways coming to snape man he was tood good.......cant say he was a hero he protected harry coz he loved lilly but also hated harry coz of james....tht kinda sux.. ..........................................................

• Philippines
5 Jan 08
I agree with the underperformance of JK Rowling in Book 7. :) I think she was basically trying to please all to end the Harry Potter series. Anyways, the thing with Snape, though I find him arrogant and selfish... he just did not know how to express the kind of "care" he wished to express to harry, because physically, harry reminded him of James and will forever be reminded of the immature hatred he had for James. :D

• India
6 Jan 08
yaa......i completely agree wid u. hope rowling writes a new book.......not hp but something else

• New Zealand
19 Aug 07
Calling Snape a hero might be a bit much. However, as a saboteur in the stories, he does a very good job. But even at the end, you wonder how easy it would have been for him to have given up on Dumbledores plan and gone wholeheartedly óver to Voldemort.

• India
19 Aug 07
he never wished to go to voldemort side i think . he always acted acc to the plan . i dont call him a hero but i dont call him a villain either...

• New Zealand
19 Aug 07
Fair enough. He suffers for his love for Lily, and certainly James' treatment of him is not good, but he also does some pretty nasty things at times throughout the stories. Going back through them it's hard to see him much on the heroic side.

• United States
9 Aug 07
I think that hero is a little overstated because he loved Lily but would have gladly watched James and Harry die and only saved her. Then he only watched over Harry because Dumbledore forced him to do it. He probably felt a certain draw toward him as Lily's son, but then also hated him because he looked so much like his father. I'm glad that he wasn't completely evil, though.

• China
10 Aug 07
I am always believing Snape is a spy of Dumbledore and not a evil.But I never thought of the reason being the love for Lily rather than the loyalty to Dumbledore.In front of Lily,he even can't say she is a mug-blood.


• United States
19 Aug 07
After reading book 6, I truly thought that Snape was on the dark side, but he redeemed himself in the last book. I loved how she wrote about how Snape gave Harry his vial of memories and we see how truly human he is. I am so glad that she showed Snape's softer side. I am sad that he had to die though



• France
9 Jan 08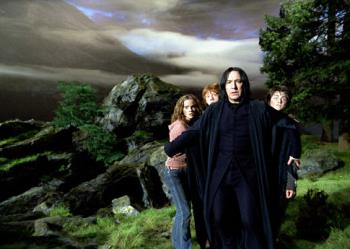 i just watch the movies and since the first i got the impression he is on the good side, you might say a hero. Was not for him HP would have crumbled a long ago. We all need a little discipline. The reasons are much more interesting to himself than to us. Again in the movies, John McLane (Bruce Willis) of the Die Hard series is a huge hero that "only" wants to save his wife and daughter. And gosh, we do connect to him more than any Superman around. PS: thanks for the spoiler in the title lol

• China
21 Mar 08
In the first book I hate snape. In my opinion ,I think everyone hated snape . He does many bad things . But the last book , JKR says that snape loves Lily. I felt snape is very great . I appreciate him . Though there is no one trust him when he is alive . I think everyone will understand why snape did all the things . Everyone will love him,because he is a hero . He is also a hero in my heart. I appreciate this kind of man !