Three Months Without Drinking Coffee and I Am Counting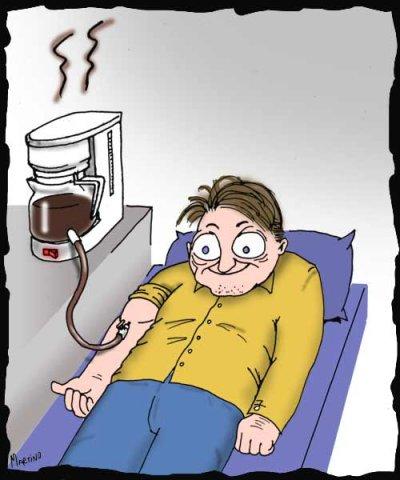 Canada
August 9, 2007 10:07pm CST
I used to drink coffee just like I drank water. I did not even count the number of mugs that I drink in a single day. At the beginning of May, I ran out of regular roast. I remembered that I had an espresso coffee in my kitchen, so I went for it reminding myself to be easy on it. A few days later, my heart started beating abnormally, I did not care much at the beginning, though on a Sunday morning, my hearted started beating really fast. I did not know what to do exactly as I was alone at home. I though that I was having a heart attack and was about to call 911 or go knock on a neighbor's door. Then, I lied down near the window and tried to focus on nothing. A few hours later, my heart beats slowed down a bit, which allowed me to get up and make myself something to it. At that day, I vowed to myself that I am not going to drink coffee anymore. I was fearing some sort of caffeine withdrawal, some terrible headaches . Fortunately, nothing of that happened. Now, I just drink some tea and eat a bagel for breakfast and I am pretty fine.
9 responses

• United States
11 Aug 07
Congratulations, I wish I could give up my caffeine like you did. You were very lucky to not have the headaches, they can be horrible.

• Canada
11 Aug 07
I tried to stop drinking coffee a few years ago, though I could not function properly due to those headaches. Yes, I think that I was lucky not to have them this time.

•
10 Aug 07
Hi. I am glad you are so determined to stop drinking coffee, and successful at that. I drink at least 2 cups per day also, maximum of three. I do that to combat my sleepiness. I usually sleep late at night and have to wake up quite early. 8am is already early for me. Wish I could wake up around 11! LOL. You mentioned about drinking tea instead. Just try go easy on tea also because it stillhas caffeine, unless you go for the caffeine-free. It's actually the caffeine that's giving you palpitations. Cheers!

• Canada
12 Aug 07
Thanks for your reply. I drink regular tea, around three cups a day. I will have to go easy on tea as you mentioned. Though, I think that tea is less harmful than coffee.

• United States
10 Aug 07
I love my coffee and find it hard to give it up. Now, I'm pregnant again and I've switched to decaf. It's better than nothing. I wish I could drink the real thing but I know it will be a long while before I can do that again. I just have one cup of decaf a day now. Maybe you can try that if you want some coffee some time. That will not give you the heart palpitations like the normal coffee with caffeine does.

• Bulgaria
1 Sep 07
I am also a coffee addict but fortunately until now I have had no problems. As a child I used to drink tea because my parents did but later I discovered coffee and switched totally to it. I know that strong tea is even more harmful than coffee. A friend of mine was giving up coffee by drinking tons of black tea and this certainly wasn't the way to go. I haven't seen here recently but I think she switched back to coffee but in more moderate quantities.

• Canada
2 Sep 07
Thank you for your reply Leonarda. Well, so far drinking tea did not have any bad consequences on me. The heart palpitations stopped and I even can go for long cycling rides without having any problems. Though, I try to keep in mind to drink tea moderately.

• Bulgaria
3 Sep 07
Tea is also addictive. But I don't know which varieties exactly have the most caffeine or what was it. Also, I have noticed, that I don't feel well, when I haven't exercised for a long time. Even short walks (2-3 kilometers) are very useful to keep one fit.

• Canada
7 Sep 07
Yes, sports give you boost almost like coffee or tea do. I practice cycling in the summer. But now, with the end of the summer, I just go for long walks, like you, my walks are generally 2-3 Km walks, evening walks.


• Canada
24 Aug 07
I love coffee, especially since I live right around the corner from Tim Horton, and he has me wrapped right around his little finger slapping me round and round with his coffee just like he does with his hockey stick. I have gone off caffeine voluntarily a few times in my life, but I am pretty badly stuck on it and always end up back on it in a short time. My son has inherited my love for caffeine but he's been off it now for for over three months. He had a hard time at first with headaches but he's ok now. He knew he needed to get off when he started having withdrawals if he missed even a part of day without caffeine. Plus he was drinking energy drinks like Rockstar. He went off just before he went into the hospital for pneumothorax last spring, which had nothing to do with caffeine but is a lung defect he just suddenly developed. He was so glad that he had done the WD before he got pulled down by the illness. He would have been pretty miserable in the hospital if he had needed his strong caffeine doses. This time, this past week, when he went in for the planned surgery to fix the pneumothorax, he had no problems missing his caffeine as he had been off it for a long time now. I'm very proud of both of you. Be careful...tea has other chemicals that emulate caffeine, and some teas add caffeine...like Morning Thunder by Celestial Seasonings.

• Canada
2 Sep 07
Thanks Kbkbooks for sharing your experience and I hope that your son is doing much better now. The coffee made by Tim Horton could be very addictive. I used to work close to Tim Horton, and many times a week I go there at lunch time not for their sandwiches nor their soups, but to get a coffee and three donuts and I called that lunch.

• Canada
2 Sep 07
Mike is doing a lot better. He even went to school on the first day, less than two weeks after, and this weekend he went camping with his Dad and some friends. As far as I know he plans to stay away from coffee or at least keep his consumption reasonable in the future.

•
29 Aug 07
Well done you (of course if you're still off the coffee to this date)! I've never been a coffee drinker so don't know about that addiction, and nor have I ever been a tea drinker. It's pretty weird because my parents drink a lot of tea and so does my younger brother but somehow I never got into it. I don't even have coffee in the house for visitors (which is something I keep meaning to fix)! I hope you're still off the stuff and coping fine hun :)

• Canada
31 Aug 07
Thank you for your reply Anonymili. Yes, I am still off the coffee, though I drink some tea now. I have never been a tea drinker before, but I grew up drinking coffee. How do you manage to start your day without drinking any coffee or tea?


• United States
11 Aug 07
I admire your will power. I've cut down to just 2 or 3 espressos a week though so I feel I'm doing pretty well. I don't drink from a coffee pot any more so I don't feel the need to drink coffee all day any more. It really does kill your teeth. I keep reminding my self that every time a craving comes on.

• Italy
14 Sep 07
Oh, you are great! I like your determination, I like coffee and I drink it once or twice per day but sometimes I don't drink it for all the day. I know coffee can birng you to addiction and giving up drinking it is quite difficult. You said you have stopped drinking coffee because you I thought you was having an heart attack, so what you want to say is that a person is determinated to stop one of his habit when he thinks it will hurt him, this is similar to stop smoking: when you feel fine you don't mind to possible pains and deseases, but when something is not functioning well you immediately stop smoking. However, you are doing a good job, go ahead!!