I need some photography tips

United States
August 10, 2007 5:17pm CST
I make my own jewelry, and have sold quite a bit. I have never had anyone be disappointed with something they bought, but I do get a ton of requests for better pics. Now I have tried everything i can think of to try to make them more clear and show better details. If anyone has any helpful tips, I would greatly appreciate it.
5 responses

• United States
10 Aug 07
Really it's all about two things: First beinghow good is your camera (like what;s the max number of mega pixels or whatever they call em) and how you upload them into the internet. My sister has a great camera and always uploads everything with the best resolution possible (she's in real estate, so this is very important for her to have great pics!) Just keep playing with it, you'll find the best combo soon.

• United States
11 Aug 07
It is a fugi digital camera. I am afraid I dont know anything else about it. That is why I was asking for tips, thanks for the help

• United States
11 Aug 07
Melissa, I think it is a little difficult to give you good advice, when I have not seen your photos. Could you post some of your photos here?

• United States
11 Aug 07
You can see all of them by visiting my webstores at http://www.melissasawesomegems.ecrater.com and http://www.stores.ebay.com/djssapphiremax I would appreciate any help you can give me thanks so much

• United States
12 Aug 07
Ok, Melissa. I saw your photos, and it sure looks like you are very creative, I wish I had your kind of talent. In regards to the photos, I have two ideas that might help you. 1) Try to find a piece of dark fabric, which you can use as a back ground color. Try to think about how the photographer does, when they take portraits. If I were you, I would experiment with a few colors until you get the right result. 2) Sometimes, when I try to take macro (close up) photos, they get a bit blurry. I have found that the key to solving the problem is to take a photo, which is a bit further away, and then I go to a photo editing program and crop the photo in order to get it closer. I do not have a great photoprogram for my camera, so every once in a while I go to www.corel.com, and download their free 60 day trial. They have a really good photo program. Whenever the trial is expired, just uninstall it on your computer, and sign up with a different email account (and a fake address). Let me know, if you can use any of these suggestions, and let us see your results. Good luck! I am looking forward to seeing your photos.

• United States
12 Aug 07
Thanks, it took me a long time to learn to properly set the stones. Now i just have to get the picture thing down. You gave me some very good tips, esp with the blurry part, that is my biggest problem. My camera does have editing software i just dont know how to use it, but my husband said he will show me and then i will have to tweek all them pics I have. Anyway thanks for the great tips, and I will keep that website on my favs incase i need it


• United States
13 Aug 07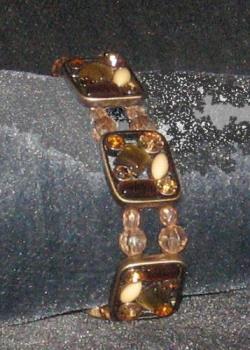 i would agree with the others who said to use a cloth background. It will make your creations stand out. Another trick you can use is to use the telephoto option on your camera. Look at the shot I did of a bracelett and all I used was the velvet arm cover from a chair and the chair seat to shoot this photo. I was back about 5 feet and used the flash. I them did some color correcting of the background only and cropped the photo, using Photoshop Elements.

• United States
13 Aug 07
Thank you for the input, do you happen to know how i would find the telephoto option? Does it have a usual symbol, like the poster above told me the flower was for macro. If you look at the above pic that I posted, I had very good luck using the macro button, but I am always looking for new ideas to try

• United States
14 Aug 07
My camera doesnt seem to have any of those symbols, it does however have a lightning bolt. What do you think that is for?

• Singapore
13 Aug 07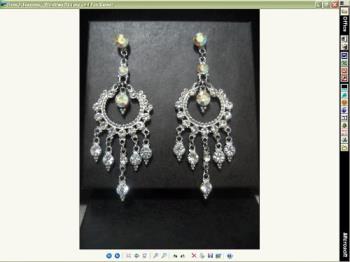 Hi there! yes I get what you mean when i saw your photos. Well, I think the suggestions given so far can be summarised into: 1) use a black background instead of your hand. this will make the jewellery shine more. you can place a ruler next to it if you need to show scale of size 2) set your camera to the macro function. this is usually indicated on the dial in the shape of a flower. because when you take close ups of flowers, you have to use that setting. it will focus better. 3) Appropriate lighting. if you have a digital camera you'll be able to see the effect of lighting right after you take it. switch off the flash and see whether it makes the jewellery look clearer. a picture speaks a thousand words, so here's one of my jewellery to give you an idea.:)

• United States
13 Aug 07
Thanks for telling me how to find the macro function. I looked and looked last eve and couldnt find it anywhere. Your other tips are great too.

• United States
13 Aug 07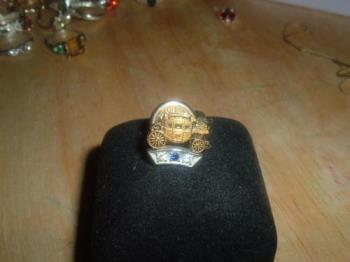 Is this one better, I spent all day taking most of the pictures over using the tips you all gave me. any critique would be appreciated

• Singapore
14 Aug 07
yes this looks better! glad you found the tips helpful. perhaps clear the background or place it on a black sheet of paper so the background is not distracting. :)

• United States
12 Aug 07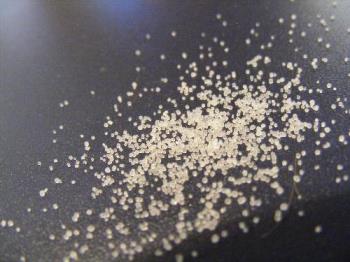 I checked out your website and would suggest you might want to check if you camera has macro or super macro. This feature would allow you to get extremely close up to your subject without it being blurred or too dark. I just bought a Fuji Finepix S700 (around 200.00 at Amazon) and the macro is so good you can actually touch your subject with the edge of the lens and still get a great photo. If I can get it to load, I will add a picture I took of salt.

• United States
12 Aug 07
I am having my husband check to see if we have macro on our camera, he seems to think we do and then I just have to learn to use it that way. The salt pic was cool and yes I could see such great detail of just salt. It also will accommodate a tripod so I will have to get one of those too. Thank you to everyone who posted with all the great tips and advice. I appreciate it all