Book as gift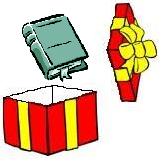 Philippines
August 12, 2007 7:53pm CST
Have you ever given someone a book? In special or ordinary occasions, what book would you give as a gift, and why? Please mention one to three books only. Thanks.
5 responses

• United Kingdom
25 Oct 07
One of my friends really likes piers. We have been to some great piers in the UK. It was Christmas time and I tried to find a book about piers to buy him. None of the standard type book shops had books about piers. I searched on the Internet and it gave me some ideas of where to try. In the end I managed to get the ideal book in a museum listing and detailing every pier in the UK. He was delighted to get such a lovely book and he enjoys looking up which pier he will go to next. We met up in Wales and saw a charming old Victorian pier. Wow! It is delightful to see my friend enjoy a present so much and get a lot of enjoyment out of it.

• Philippines
21 Nov 07
Knowing well the person and his most interest and needs and be able to find and give him that as a gift at just the right moment is truly precious. By the way, pardon me to ask, what is so interesting with piers? My impression of piers is that it has a large container yard with large ships dock beside its port which are about the same in every pier. Care to enlighten me on this matter? Thanks!

• United Kingdom
21 Nov 07
The piers that my friend likes are like walkways that go out to sea. Some of them are from Victorian times and have lovely architecture. They are quiet places to sit and enjoy a gorgeous view of the coastline. One that I know has a pretty little tea shop at the end of it.

• Philippines
28 Nov 07
I realized that what you are referring to are pleasure piers which are rarely found here, I did once visited one in Misamis Occidental Aquamarine Park (MOAP)in Northern Mindanao, Philippines which is indeed a nice relaxing place to enjoy the cool breeze besides enjoying the dolphins and sea creatures, and corals all around. Generally all piers here are working piers and usually busy with people and cargo moving all around the place, not the type where you would want to spend a quiet time.

• Bangladesh
16 Aug 07
Books is the mirror of one's taste and personality. I am not a person who gives many gifts to people but in my little life the few gifts i have given was all books. I have given "All quiet on the western front" most of the times and itz my favorite one. I have also given "The Amphibious man" to my dear ones. I recomend these 2 books to gift everyone you love or like. These are evergreen books.

• Philippines
25 Aug 07
I checked out the books and found out that "All Quiet on the Western Front" is a story about the horrors of war while "The Amphibious Man" tells of living in balance between the two realms of reality and imagination. I find the latter book interesting.

• Bangladesh
25 Aug 07
2timothy, I would like to request you to read "All qiet on the western front". War isnt only for bringing confict, it is also for bringing peace. In that book obviously u will see the horrors of war but u will also know the impact of war in a man's life, the love in the war, the emotion of a soldier and his family, a wife's thirst for her soldier husband, the end of a soldier. One of the nicest books I have ever read.

• China
13 Aug 07
I have sent books as gifts to my friends.Before I sending,I will ask which book he/she prefer to reading right now.If my friend can give me an exact answer,that's to say he/she tells me the name of the book,I will buy it and send it as a gift.But if my friend couldn't tell me an exact name of a book,I will choose the gift by myself.Genenrally speaking,the Top 10 in bookstore are my favourite choice.No one can say no to the pop books.

• Philippines
22 Aug 07
There is this book which I gave to a couple of friends. The title is "Living, Loving, and Learning" by Leo Buscaglia. It's a very inspiring book about life, love, and many things in general. I also remember giving another book, "ABNKKBSNPLAKO" (Aba nakakabasa na pala ako -- Filipino for, Finally I can read...LOL), It's a nice book from a local Filipino author Bob Ong. It has humor, lots of realistic bloopers but also give many lessons in life.

• Philippines
13 Aug 07
First, it would be "The Little Prince by Antoine De Saint-Exupery" because it is really a good book to read for all ages. Next would be "Don't Sweat the Small Stuff by Richard Carlson" because it teaches us life's simple pleasures. We don't have to waste our lives on "small things" Life is beautiful. Third would be The 7 habit of highly effective people by Steven Covey". This is a self-help book which is trully a must read for all of us.:)